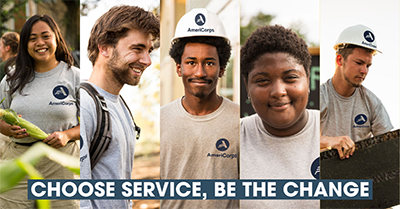 'Choose Service, Be The Change' AmeriCorps info session basics
When: Thursday, Oct. 15, 2020 12:30 - 1:30 p.m.
Registration deadline: Oct. 14, 2020
Cost: Free
Registration page: Click here
 
AUGUSTA -- ­Volunteer Maine, the state service commission, is providing an opportunity for individuals interested in strengthening Maine communities to connect with AmeriCorps programs in need of new members.
Maine AmeriCorps members lend a helping hand to those in need while building valuable skills and earning money for post-secondary education. Community agencies that tackle challenges in education, the environment, food insecurity, and community resilience are looking for the next class of individuals to get things done for Maine.
Attendees will learn about open service opportunities, the application process and life in AmeriCorps from Maine program representatives and alumni. Attendees will also have the opportunity to ask questions and learn how each program serves its respective community.
Maine AmeriCorps programs attending the info session: (list subject to change)
Colleges and universities across the country acknowledge the value of service by joining the Segal AmeriCorps Education Award Matching Program. In Maine, the University of New England School of Social Work is the only participating program. Additional institutions that participate in the Matching Program can be found on the AmeriCorps website -- click
here
.
Those interested can register to attend the info session by viewing the AmeriCorps info session page on the Volunteer Maine website. The page also features information to help individuals gain a better understanding of AmeriCorps, such as educational resources and member testimonies -- view the page
here
.
###
About AmeriCorps
AmeriCorps, a federal agency, brings people together to tackle the country's most pressing challenges, through national service and volunteering. AmeriCorps members and AmeriCorps Seniors volunteers serve with organizations dedicated to the improvement of communities. AmeriCorps helps make service to others a cornerstone of our national culture. Learn more at AmeriCorps.gov.
About Volunteer Maine
Volunteer Maine, the state service commission, builds capacity and sustainability in Maine's volunteer sector by funding service programs, developing volunteer managers and service-learning practitioners, raising awareness of the scope and the impact of the volunteer sector, and encouraging an ethic of service. On Oct. 16, 2019, the Maine Commission for Community Service adopted the public identity Volunteer Maine.
Media contact
Bryan Roche, communications officer
Office: (207) 624-7836
Cell: (207) 446-3471
Email: bryan.roche@maine.gov
Categories
AmeriCorps
Volunteer Opportunities