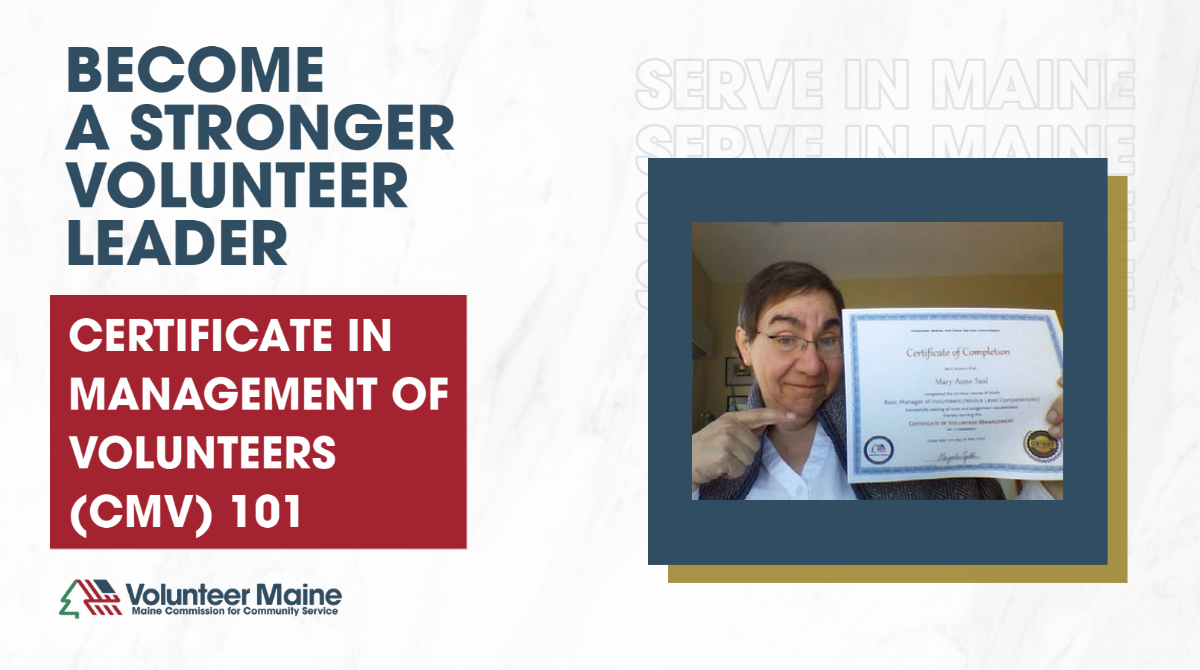 Registration info
When registration is open, go to the registration site (external link - view below). Course registrations typically are open for 3 weeks before the cut-off (close) date.
Registration is currently closed.
If the session one dates do not work with your particular schedule, please see below for future opportunities to take the course.
About
Developed and offered by Volunteer Maine, the state service commission, this course is designed for everyone responsible for designing, implementing, or sponsoring volunteer programs. As the basic course, it is built around the novice level Competencies for Managers of Volunteers (see below for link to PDF). It also is a good refresher for anyone re-entering the field or individuals who expect to take on leadership roles in their communities or agencies.
Access Competencies for Managers of Volunteers
How it works
The course runs for 7 weeks and is offered at least three times each year -- late spring, fall, and mid-winter. Dates for each year are listed below.
Individuals register, participate in a course orientation, and then work at their own pace through the six modules. During the course, there are no specific meeting times. Students who learn best within a framework may want to set up a study group of peers and meet regularly to discuss assignments.
The course is open to anyone with internet access. Students who complete the course are issued a certificate by Volunteer Maine. Hardcopy certificates are mailed to anyone within the USA. Electronic certificates are issued to students outside the USA.
Details
The course consists of 6 modules and takes about 30 hours (5 hours per module) to view the online presentations, read assignments, complete and submit journals, and take quizzes.
Module 1: Overview of Managing Volunteers
Module 2: Supervision and Human Resources - Part 1
Module 3: Supervision and Human Resources - Part 2
Module 4: Program Management and Operations
Module 5: Managing Risk - Part 1
Module 6: Leadership and Advocacy
Participants will need to have strong, reliable internet connections. These will be tested during the course orientation that proceeds the start of each 6-week session. Orientation also covers navigation inside the course and how to submit assignments.
Mandatory course orientation: Orientation is pre-recorded for student convenience. There are two additional course pre-requisites that must be completed before starting course. Instructions and links are in the confirmation email sent after payment. When pre-requisites are complete, the link to set up the student account and course access will be sent.
Fees
$120 US dollars. Payment must be received before course begins.  
Discounts may be available through Maine associations of volunteer managers or other Commission partners or promotions. For information on current discounts (if any), email service.commission@maine.gov.
Note that payment will be made to the Maine Volunteer Foundation which is the nonprofit partner of Volunteer Maine.
2022-2023 schedule 
Session 1: Aug. 8 - Sept. 16, 2022 (registration open until July 31, 2022)
Session 2: Nov. 14 - Dec. 23, 2022 (registration open Oct. 12 - Nov. 4, 2022)
Session 3: Feb. 6 - March 17, 2023 (registration open Jan. 3 - 27, 2023)
Special sessions can be arranged for groups/organizations with at least 12 participants. Contact service.commission@maine.gov
Refund policy
Registrants may withdraw from the course up to 7 days before the session opens and receive an 80% refund. Anyone who withdraws within the 7 days before the course starts will receive a 60% refund. Students who start the course but do not complete will not receive a refund.
For more information
Questions? Happy to help! Send us a message by visiting our contact page.