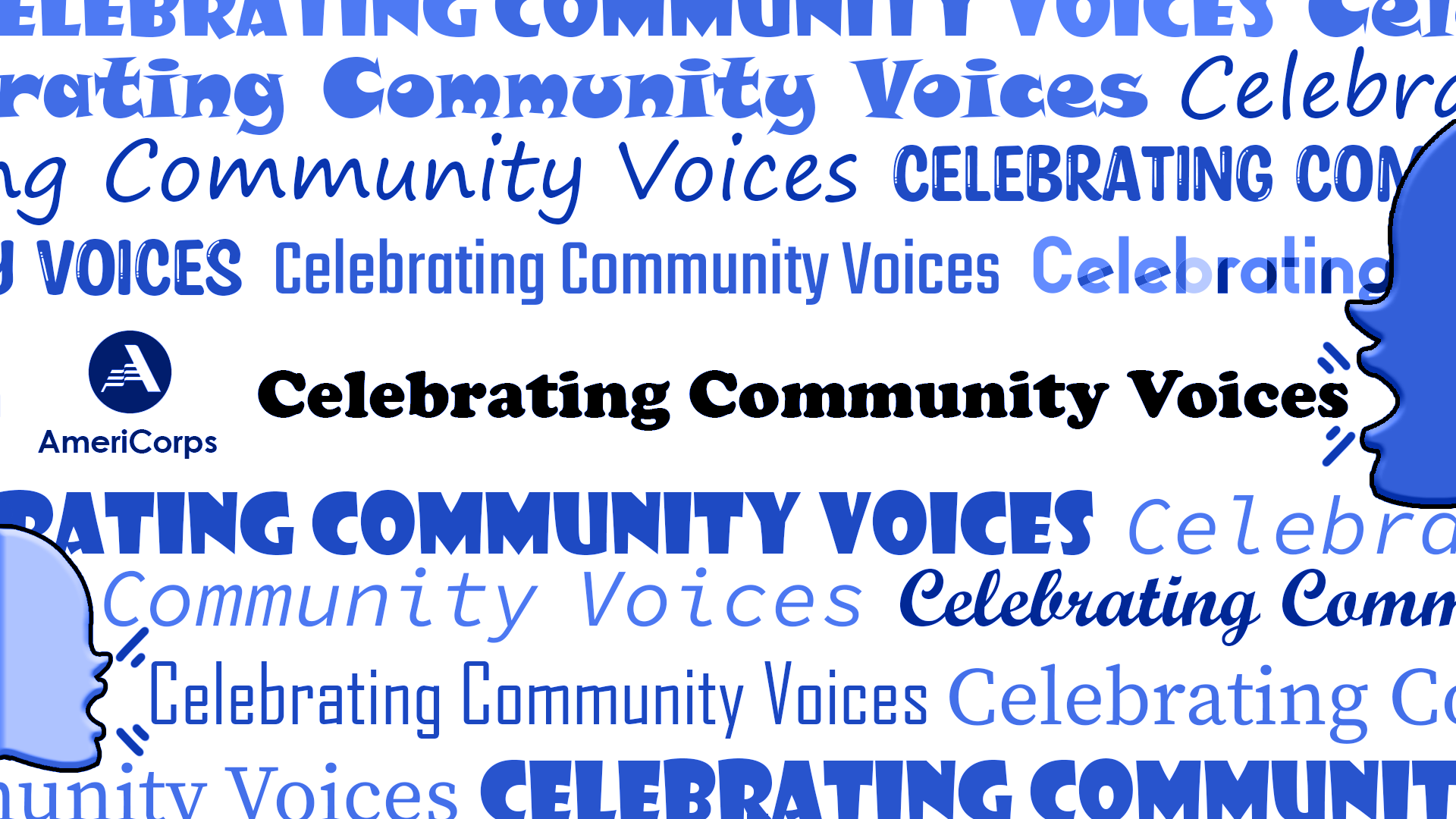 Graphic designed by Penny Ames, AmeriCorps Five to Ninety-Five member
"Celebrating Community Voices": 2022 Maine AmeriCorps Member Conference
Date: March 30, 2022 8:45 a.m. - 4:30 p.m.
Venue: Virtual venue via Zoom
AmeriCorps member pre-registration activity - True Colors personality test (more information below): Access personality test
AmeriCorps member registration link: Access member registration
Cost: $15

Cost-share includes full day of workshop sessions, door prize drawings, a t-shirt and more!
Important note: Maine AmeriCorps programs include this fee in their budgets; members should check with program staff to verify.
About the conference
On March 30th 2022, AmeriCorps members from all across the state will gather virtually for the annual AmeriCorps Member Conference.
This conference is a "for member – by member" conference where members:
design and organize the event, 
have the unique opportunity to present to other AmeriCorps members,
learn from their AmeriCorps peers, and
network with other members serving in different places and with different programs in Maine.
Conference agenda

8:45 ‐ 9:10 am: Opening & Introductions
9:15 ‐ 9:55 am: Casual Networking Session 
9:55 ‐ 10:00 am: Break
10:00 ‐ 11:00 am: Keynote Speaker: Juana Rodriguez Vazquez
11:00 ‐ 11:10 am: Break
11:10 am ‐ 12:05 pm : Session 1 Workshops
12:05 ‐ 12:45 pm: Lunch Break
12:45 - 1:40 pm : Session 2 Workshops
1:40 ‐ 1:45 pm: Break
1:45 ‐ 2:40 pm: Session 3 Workshops
2:40 ‐ 2:50 pm: Break
2:50 ‐ 3:30 pm: Thematic Networking Session
3:30 ‐ 3:45 pm: Closing Remarks and door prize raffle
3:45 - 4:30 pm: Parking Lot Hang Out Session (Optional)

Information on pre-registration activity and casual networking session

What is your True Color!

Members will be placed in this networking session based on the result of a brief personality type assessment. Before AmeriCorps members register, please visit the following website to access the test -- Access personality test

In the casual networking session, members can meet members who share some of your traits and have a chance to connect!

Instructions

Take the short (4 minute) personality assessment and determine your predominant "True Color"  
HINT: Don't hit the green "CONTINUE" button -- it is an Advertisement.  Use the Yellow NEXT PAGE option instead
Members will end up as

Blue,
Green,
Orange, or
Gold

Important: Members will be asked to select their color on the online registration page

Keynote speakers

Juana Rodriguez Vazquez

Mano en Mano (Hand to Hand)
Executive Director & Migrant Education and Rayitos de Sol Childcare Director

Juana first came to Maine 20 years ago to participate in Maine's wild blueberry harvest. Her active participation over the years and her commitment to sharing her knowledge and experience with other parents led her to become an AmeriCorps Member with Mano en Mano in 2014. Through this position, Juana was involved in a range of activities such as creating short non-fiction informational videos for other parents, helping to coordinate bi-lingual learning activities for families, and co-presenting about her experiences at national and regional events. Juana was hired as a full-time member of the team in 2016, and promoted to Program Director in 2019. She holds a Bachelor's Degree in education from the University of Maine at Machias and General Elementary (K-8) Teacher Certification from the Maine Department of Education. In 2015, Juana received national recognition as migrant parent of the year from the National Association of State Directors of Migrant Education, and in 2021 she received the Marcia Lovell Award for her work at Rayitos de Sol, as well as the 2021 Francis Perkins Open Door Award. In 2021 Juana took the role of interim Executive Director, before transitioning permanently into the role of Executive Director in 2022. Juana is a member of the Boards of Directors of Healthy Acadia, The Women's Health Resource Library and the Friends of the Milbridge Public Library. She is also a commissioner on the Permanent Commission on the Status of Racial, Indigenous, and Tribal Populations of Maine.

Workshop session 1 descriptions and presenter bios

Go with the Flow, Recreating on Maine's Rivers

Benjamin Koehler, Providing outdoor programming to the good people of Skowhegan., Main Street Skowhegan AmeriCorps Outdoor Recreation Program

Come learn about the splendors of recreating and running programs on Maine's beautiful rivers! We will learn about common river hazards and how to avoid them, how to assess if a section of river is appropriate for your group, and how to run a successful river program. 

Bio

Ben brings his expertise from a decade of River guiding and kayak instruction. He has guided on the Penobscot, Kennebec, and Dead rivers in Maine, on the Snake and Hoback Rivers in Wyoming, and on the Kawarau River in New Zealand. He is also a pioneer of whitewater snorkeling and scuba diving, a new way to enjoy whitewater rivers.

You're Not Listening! Time To Be Engaged!

Pat Saunders, Healthy Aging program, Lifelong Maine AmeriCorps

You're not listening to me! How many times have we heard that exclamation in our lives? One-on-one is challenging. Working with a community group, that sentiment can tear a potentially great project apart. Let's talk about understanding roadblocks, do some self reflection, and think about how the powerful tool of engaged listening can make your project vibrant, inclusive, and successful. 

Bio

Pat is a life-long learner and practitioner in the skill of engaged listening within varied settings from working with clients to develop marketing plan or interviewing parents and children for enrollment in Big Brothers Big Sisters programs to training sexual assault hot-line volunteers and supporting survivors in courts and hospital ERs. Pat considers it a powerful asset in building community and ensuring that all community voices are heard. Understanding how our family patterns of communication impact how we engage as speakers and listeners can help us learn to be more open and effective leaders.

Tell Me a Story: Making Data More Compelling through Narrative

Kathryn Harnish, Age Friendly Houlton, Lifelong Maine AmeriCorps

When most people hear the word "statistics", they start to snore -- and honestly, data can be pretty dry and difficult to contextualize sometimes.  In this session, learn how to tell data stories that provide context, insight, and interpretation and transform numbers into a compelling call to action.

Bio

Throughout her career in the software industry, Kathryn was drawn to using stories as a way to contextualize data and inspire action -- it can be difficult to relate to statistics, but stories that give life to that information are invaluable.  Now, as she makes a transition to gerontological social work, she is using some of the same techniques to make data about her Age-Friendly Community here in Maine more meaningful, relevant, and interesting.

Enneagram FUNdamentals and How to Use it for Personal and Professional Growth

Haley Castle-Miller, Economic Opportunity Fellow, AmeriCorps Resilience Corps & Jamie McFaul, Grants Officer, Volunteer Maine

The Enneagram is a personality-typing tool with roots in ancient mysticism, and more recently gained popularity as a tool in the field of psychology. Enneagram theory suggests that each person has a core personality type that informs how they view the world. In this workshop, you will have the opportunity to dive deep into the world of the enneagram, discover your type, and learn how to utilize it for personal and professional growth.

Bios 

Haley was first introduced to the Enneagram in 2016, when she participated in a Quaker-based service program. As someone who already loved personality tests, she went deep into books and workshops about the enneagram. She says, "I have led an enneagram workshop for my peers at another event. I do not have any certifications in Enneagram theory or practice; I am just an avid learner."
Jamie is Volunteer Maine's Grants Officer, responsible for overseeing the administration and monitoring of AmeriCorps programs. Prior to taking this position,

Jamie was the Public Assistance Program Delivery Manager for FEMA.  She earned her masters degree in public policy from the University of Southern Maine as well as her bachelor in geography and anthropology. Before moving to Maine for university studies, she served an AmeriCorps term in Baltimore, MD, where she was volunteer coordinator at the Village Learning Place. Jamie also served in the US Air Force.

Workshop session 2 descriptions and presenter bios

Leave No Trace

Maine Conservation Corps Team Leaders, Providing outdoor leadership and trail construction projects, Maine Conservation Corps

The participant led Leave No Trace (LNT) Awareness workshop will equip you with the knowledge and skills to preserve the environment and educate others to act as stewards. As more people use parks and recreation facilities, LNT principles become even more important for outdoor visitors. Learn to practice LNT in your attitude and actions where ever you go. 

Bio

MCC Team Leaders are in the midst of a 12 week training program preparing to lead teams in some of Maine's most treasured wilderness areas and community parks.  Following these Leave No Trace principles is an essential part of living, serving, and enjoying the outdoors.

Finding Your Voice: Learn to Speak Your Truth

Mary Beth Paquette, Working to mentor 3 Lifelong Community Communities across the state, Lifelong Maine AmeriCorps; VISTA Alum Alaska and Idaho

You are a unique individual and what you have to say has enormous merit!  Sometimes we get stuck in our heads -- what if my message isn't clear?, what if my voice shakes?, what if they just don't care about what I have to say? This workshop will give you tools and encouragement to deliver your message. Join this workshop to bring out the real you!

Bio

Mary Beth has worked throughout her career to empower others while working with survivors of domestic violence, with low income women looking for careers in the trades, and as a mediator helping people to resolve conflicts. A key part of feeling empowered is finding your unique voice and not being afraid to speak your truth.

Understanding Health Insurance After Your Service Ends and Beyond

Sophie Boardman, HealthReach Community Health Centers, and K.J. Johnson, Alum, Goodwill VISTA Partnership

This workshop will cover the basics of understanding health insurance. AmeriCorps members qualify for a specific "Qualifying Life Event" when service ends. If you don't have a job lined up after service, a gap in healthcare coverage can happen if you did not have existing coverage before service. We'll cover what options members will have within Maine and we'll briefly discuss the federal marketplace for members who will be leaving Maine. We will cover basic health insurance terms, important deadlines, and who to go to for help. Learning the basics of health insurance will help you as you receive job offers and companies health plans.

Bios

Sophie Boardman has been serving with HealthReach Community Health Centers, a group of twelve Federally Qualified Health Centers located across Central and Western Maine, since September of 2020. She is certified to help patients sign up for the health insurance through Maine's health insurance marketplace and knowledgeable about other reduced fee healthcare programs in Maine.

KJ is an AmeriCorps VISTA alum from Greater Portland Health, where she conducted quality assurance and outreach programing. She now works as a Connector at HealthReach Community Health Centers, a group of twelve Federally Qualified Health Centers located across Central and Western Maine, at three health centers, Mt Abram Regional Health Center (Kingfield), Rangeley Family Medicine, and Strong Area Health Center. As a Connector, she provides free and valuable services to help with the high cost of healthcare and connections to other community resources.

We Are AmeriCorps; Getting to Know Each Other

Penny Ames, AmeriCorps Member, AmeriCorps Five to Ninety-Five

Each person in the session will have the chance to create a get to know you slide. A slide is like a postcard -- all about you, your personality, and interests. We are sharing what brings us joy and love with one another.

Bio

Penny is serving for the first time in AmeriCorps in Van Buren, supporting youth and elders in this tight-knit area of Aroostook County.

Workshop session 3 descriptions and presenter bios

Financing Environmental and Climate Priorities

Courtney Crossgrove, Climate Resilience Finance Fellow, GPCOG AmeriCorps Resilience Corps

This session will provide high-level summaries of various financing mechanisms for environmental and climate priorities. The mechanisms discussed range from conventional municipal finance mechanisms like taxes and bonds, to innovative new financing measures such as green and resilience banks and credit trading systems. There are methods appropriate for government entities, private entities, nonprofit organizations, and citizen groups. There are methods to finance short or long-term, small or large, and revenue or non-revenue generating projects. The presentation will also differentiate between financing and funding and clarify when financing solutions are appropriate. Examples of the various financial solutions and their application to environmental and climate solutions will be provided.

Bio

Courtney is the Climate Resilience Finance Fellow serving at the New England Environmental Finance Center. There she has created reference materials on various financial solutions for adaptation and mitigation measures. The New England Environmental Finance Center creates innovative solutions to the difficult issue of how-to-pay of environmental protection and improvement. The center works with the public and private sectors to promote sustainable environmental solutions while bolstering effects to manage costs. Courtney has a bachelor's degree in Nutrition and Dietetics from the University of New Haven and a master's degree in Sustainability Science focused on food systems and agriculture from UMass Amherst. Courtney has experience working in campus dining, nutrition education, university programming, state hunger elimination research and planning, and humanitarian assistance.

Relationships Between Mentoring and Role-Play

Jeremiah King, AmeriCorps Member, The Game Loft/I Know ME AmeriCorps program

If you enjoy storytelling, acting, or role-playing games, then this is the presentation for you. We shall together explore role-play's ability to create an environment of reflection, fun, and camaraderie for a range of youth. An interactive demonstration will allow for interested participants to exercise or observe some live role-playing of their own.

Bio 

Game Loft promotes Positive Youth Development through non-electronic games and community involvement and to raise aspirations for youth mentoring and the exploration of the State of Maine.  Jeremiah connects youth in the Belfast area with their home state and one another through play.

DEI Matters: What're Your Next Steps?

Megan Hageney, Heart of Biddeford, MDF Main Street Fellows AmeriCorps Program

Have you heard about "diversity," "equity," "inclusion," and "DEI"? This workshop's objective is how to transition these from trendy buzzwords to values that are truly operationalized in your organization. It will give you the tools on how to begin or how to improve your current DEI efforts.

Bio

Megan is the Diversity, Equity, and Inclusion Fellow at Heart of Biddeford. Her service year's focus is making our downtown a place where everyone can thrive. Her relevant career experience includes food security and anti-gentrification efforts. She has an undergraduate degree in Sociology and a master's degree in business.

Where's My Community? Getting Volunteers Involved

Kelsey Preecs, Program Officer, Volunteer Sector Initiatives, Volunteer Maine

The community you are serving is a huge asset, and volunteers are essential for any organization to reach their goals and achieve their mission. This session will be a volunteer management 101 overview, giving you a solid foundation to work with and manage volunteers.

Bio 

In her role with Volunteer Maine, Kelsey works to support volunteer programs in Maine by offering training and professional development to agency staff who work with volunteers. Prior to joining Volunteer Maine, Kelsey was the Director of Community Engagement for United Way of Anchorage in Alaska. She has a marketing background, working as a marketing manager in nonprofits before, as well as an Account Exec with an advertising agency, and has over 6 years of volunteer management experience.

Thematic network session information

Network Session II: Future Plans

Where are you heading next? If you know for certain, select the relevant option and come share. If you are not certain, pick an interest and come ask questions, gather food for thought.:

Education/Youth Services

Work and study in this area is huge! It covers all ages and takes all forms. The locations could be schools, another country, a youth program, sports, mental health, medical, etc.

Environment/Climate

Opportunities range from engineering water flows to overcoming acidification of lakes and ocean to conservation and preservation. Changing transportation habits, energy sources, climate justice, new businesses -- it all fits this path to the future.

Health & Social Services

This networking group is not age or topic specific but the broad array of nonprofit and community service opportunities. Disease research and prevention along with literacy, mentoring, job training, food security activities all come under this umbrella. What a rich conversation you could have!

STEAM (aka science, technology, engineering, arts, and math)

Career paths and experiences in this category include the researchers, inventors, performers, thinkers, problem solvers, builders, creators, project managers, and future-planners who make our communities interesting, workable places.

Agriculture/Food Systems

More than growing local, work in this area impacts food safety, distribution, storage, accessibility, crop variety, economics and costs, nutrition, production ... and, of course, the family dinner table.

Zoom instructions and day-of technical support

Once an AmeriCorps member registers, they will receive an email with a personalized agenda and Zoom links prior to the conference. Members will move from one Zoom room to another using the links provided in that personalized agenda.

If you have technical issues during the day, please call the Volunteer Maine office at 207-624-7803.
Thank you, sponsors, for helping to make the 2022 Maine AmeriCorps Member Conference possible!