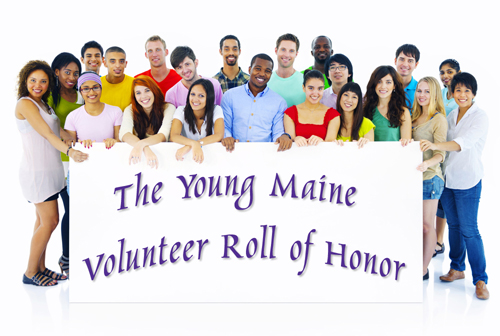 The Volunteer Rolls of Honor are a statewide to show appreciation to adults and youths who go above and beyond in terms of the time they devote to serving their communities.
This event would be held in April, and because we shifted the eligible hours to accommodate for the "COVID year" last season, you may use the same hours from December – March of 2021 that you have already reported on.
Any local organization can nominate someone who meets the criteria: town office, school, nonprofit or public agency. There is no cost to the nominator or person honored thanks to civic minded sponsors.
The 2022 nomination window has closed. Thanks to all who submitted a nomination!
Criteria

The Young Maine Volunteer Roll of Honor recognizes volunteers age 18 or younger who meet the following criteria:

devoted 50 hours or more of volunteer service to the community during the past twelve months (January 1, 2021 – December 31 2021) preceding nomination deadline. Note charitable giving (i.e., participating in walkathons or other events to raise money) and court-ordered community service may not be counted.
service hours are documented by the program(s) or organization(s) with whom the volunteer served.

All volunteers certified as qualifying by the nominating program will be recognized. This is not a competitive recognition program.

Recognition

Individuals added to the youth Roll of Honor will receive:

A Governor's Awards for Service and Volunteerism certificate signed by the Governor with the person's name and total hours of service during the prior year.
A commemorative medallion

Submission Deadline and Instructions

The 2022 nomination window has closed. Thanks to all who submitted a nomination!