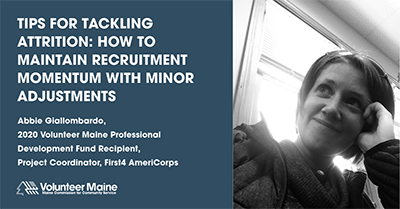 Volunteer Maine supports professional development of managers of volunteers by awarding funds to cost-share their educational or training activities. Upon the completion of their learning, recipients of professional development funds are asked to write a reflection piece as a way to share their knowledge with other volunteer leaders. 
Learn more about the fund and apply
This piece, authored by Abbie Giallombardo, Project Coordinator for the First4 AmeriCorps project, focuses on effective volunteer recruitment strategies.
As a first-year program, attrition has been a significant struggle for First4 AmeriCorps. We had so much to learn about long-term volunteers, barriers that individuals face when committing to a term of service, effective interviewing and onboarding processes--everything. (It is worth noting that all members who exited our program early did so because of personal compelling circumstances, rather than displeasure with the program.) So, after taking a masterclass this spring with VolunteerPro, I opted to take their 8-week Volunteer Recruitment That Works course, and wow, did I garner a wealth of knowledge, tips, and strategies to implement into our recruitment process.
VolunteerPro shared the course outline for Volunteer Recruitment that Works at the end of the masterclass that was focused on keeping volunteers engaged and safe with the need to pivot during the shutdown in the early days of the pandemic. It was $299 for an alpha version of an 8-week course with myriad editable materials, weekly coaching calls, a peer forum, a bonus course centered on balancing episodic and long-term volunteers, and lifetime access to all of the content. Sign me up!
With the help of Volunteer Maine's professional development fund, I was able to take advantage of this course to better our program. Oh yes, Volunteer Maine would like to support your professional development to make our programs stronger! It is a reimbursement program, so your program purchases the course or opportunity initially then invoices Volunteer Maine, which will reimburse your program for the portion of the funding requested (up to 75% of the total). This year's funding window has closed, but all you need to do is fill out the application and await your award letter! 
Each of the 8 modules in the recruitment course had a particular focus: "Planning Your Recruitment Campaign," "Quick Wins to Jump Start Your Success," "The Volunteer Journey, Tap the Power of Digital Communications -- Parts I and II," "Boost Conversions with Events," "Equip Your Ambassadors to Represent," and "Troubleshoot Your Campaign." There is a wealth of information--technology support, psychology, copywriting, and so much more. Given our program's experience in our first year, the "attrition funnel" is of particular interest. The "funnel" depicts a large number of individuals who show interest in a given program when they first learn about it, and the number dwindles considerably at each step of commitment toward joining a volunteer program. At First4 AmeriCorps, we want to ensure we are securing volunteers for our program who understand our goals, desire to make a difference, and value what we value!

One aspect we had already included for this round of recruitment was information sessions. Our view was that these information sessions would give the "why" and "what" of the program, and would be a "baby commitment" as Tobi Johnson, founder and president of VolPro, would dub it; an interested individual needed to commit that time and attention to learning about the program and deciding if it would be a good fit for their goals and interests. This expectation also helped to filter out the folks who may struggle with commitment or whose interest in our program was fleeting. Many didn't show up, despite an RSVP for a specified date and time on a GoogleForm, but those that did attend and moved on to request an interview we are certain will be great assets to our program!
With the pandemic, we conducted these info sessions via Zoom. We offered a variety of dates and times and asked current members to join these sessions to share their experience and enthusiasm with prospective volunteers. However, the VolPro course provided some great ideas for increasing the value of these information sessions, and the following are some that we plan to implement into this step of the process:
Title your event something interesting, and not "information session" or "open house" (whoops!). Instead, aim for a "volunteer-centric" call to action and consider how you can pique the interest of your audience by providing the impact that members will have in the title, and by using a subtitle to address what they want to get out of the experience as well as their main objections or concerns. For example, How Your Time and Commitment to Young Children Can Positively Impact Maine's Future: earn a stipend for service that doesn't feel like work while making a difference!
Ask a current volunteer to participate and share their story. This is something we have been doing, but we plan to be more intentional about it moving forward. How your member shares their testimonials can make all the difference. In the future, we will ask members to begin the session with a story about overcoming the odds or how service with our program has enriched their lives. At a strategically timed segment of the session, we'll ask the member to share an overview of what a day in the life of a First4 AmeriCorps member looks like. This is what Tobi Johnson calls "social proof": we want to know from our peers what is okay, what is in, and what a given experience is like. Hearing it from the person who could be their supervisor just doesn't have the same power of persuasion.
If you're using a webinar platform that does not allow for face-to-face interaction (as Zoom does), engage the attendees with some call-and-response by asking a question and having them use the chat box to respond. It is easy to lose their interest if you're simply talking at them.
Get excited! Allow your enthusiasm and your pride in your program and its mission to show. Enthusiasm is infectious; those mirror neurons that are key to building relationships and that reflect body language and emotions will evoke similar excitement in prospective volunteers!
End the event with a glimpse into the future, and what it will look like if these individuals do commit to volunteering with your organization. Try painting a picture with "Imagine if..." or "Imagine a world in which..." In other words, help them envision how their service will enrich their lives and make their community a better place. As Tobi Johnson puts it, "the heart decides, and the brain rationalizes."
Provide a place for the attendees to give another "baby commitment." This could be a link to an interest form on which they provide some basic but key information or an interview sign-up opportunity. You can get creative here!
Follow up after the event by reaching out to those who did attend, and those who did not attend. This follow-up can include a replay of the recorded session, key takeaways, and attendees' comments (anonymously, of course), plus a reminder that the time to apply is drawing to a close, which will help to fuel their FOMO response! This should occur a few hours after the event or the next day to maintain momentum for those that attended and elicit a face palm from those that forgot!

There is a complete treasure trove to pique and hold the interest of potential volunteers in VolPro's Volunteer Recruitment That Works course; these are just a few of the gems I was able to take away from it. I hope you find them beneficial to your own volunteer recruitment events! Happy recruiting!
First4 AmeriCorps is an initiative of Kennebec Valley Community Action Program (KVCAP) based in Waterville and is sponsored by VolunteerMaine. Our mission at KVCAP is to strengthen individuals, families, and communities by providing direct services and by partnering with others to create sustainable solutions to poverty in an ever-changing environment. The majority of our clients come from low-income households, and studies continually show that disadvantaged children enter Kindergarten well below their peers with more resources. The goal of the First4 AmeriCorps program is support the social emotional development of the children in our Head Start and Early Head Start classrooms as a means to boost resilience and reduce overall toxic stress early in childhood because we know that approximately 80% of brain development happens in the first four years of life.
Categories
Training and Professional Development
Volunteer Leadership
Volunteer Tips