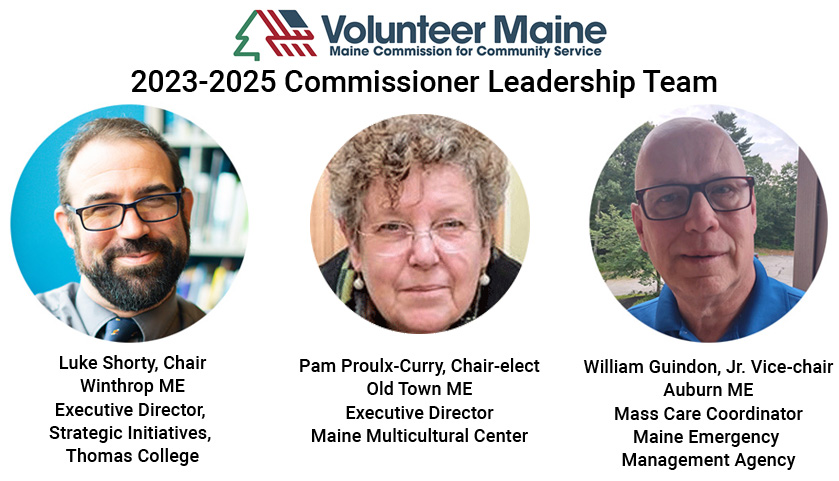 AUGUSTA – When both your careers and avocations have revolved around community and public service, stepping into the role of leading Volunteer Maine involves no hesitation. The governor-appointed Commissioners of Volunteer Maine recently held biennial elections and a new team was installed.
Luke Shorty will serve as chair through June 2025. "I'm looking forward to advancing the great work that was done by Volunteer Maine under Jenni Tilton-Floods' leadership. I'm excited about the opportunities volunteers will play as Maine continues to recover from the global pandemic." 
Shorty is Executive Director of Strategic Initiatives at Thomas College, a resident of Winthrop, and an AmeriCorps Alum. He was appointed to the Commission in 2018 and took on the Chair-elect position in 2021. He fills the seat designated for an expert in educational services because of his background and prior experience at the Maine School of Science and Mathematics as well as Lee Academy.
Pam Proulx-Curry of Old Town moves into the Chair-elect seat. Proulx-Curry is Executive Director of the Maine Multicultural Center and has an extensive experience with both higher education, where she taught science at several Maine colleges, and national service programs. She directed AmeriCorps VISTA programs in Wisconsin for five years and an AmeriCorps direct service program in Maine. Since her appointment to the Commission in 2020, Proulx-Curry has provided leadership to the Commission's training and technical assistance planning for Maine's managers of volunteers in community programs.
William "Bill" Guindon, Jr., of Auburn was elected Vice-chair of the Commission after just seven months on the board. He is the Mass Care Coordinator at Maine Emergency Management Agency. Guindon noted he agreed to take the position "to support the board, agency, and staff in achieve initiatives which expand and support community volunteer engagement." He has a long career in public service that includes directing the Maine Fire Services Institute and serving as an interim town manager. He fills the seat designated for an expert in community public safety services.
Volunteer Maine is the state service commission, a state government body that is one of 52 commissions in states and territories. The governor-appointed Commissioners are a diverse, bipartisan group of citizens, actively engaged in community service, and represent every region of the state. The Commission builds capacity and sustainability in Maine's volunteer sector by funding programs, developing managers of volunteers, raising awareness of sector issues, and promoting service as a strategy to address community challenges. 
###
MEDIA CONTACT:
Maryalice Crofton
Volunteer Maine
105 State House Station
19 Elkins Lane, Rm 105
Augusta, ME 04333-0105
207.624.7792
service.commission@maine.gov