Volunteer managers in Maine already have a lot to juggle, but a worldwide pandemic has created a new set of challenges that need to be dealt with immediately. Agencies that provide food, shelter and/or support services now have to quickly prop up plans to continue serving in a safe manner, and in some cases, how to safely expand capacity.
With so much new to think about, and with it being National Volunteer Week, we at Volunteer Maine have pulled together a three-part series featuring tips and resources to help volunteer managers navigate the COVID-19 outbreak. We hope this information is helpful, and we would like to extend a huge thank you to those going above and beyond – such as the volunteers, managers and board members –to help Mainers in need.
Part 1: Which agencies and volunteers are considered essential in Maine?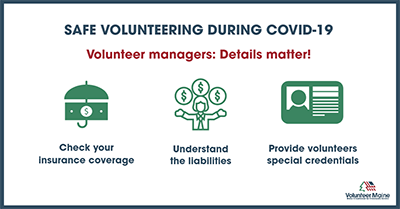 The COVID-19 outbreak in Maine has created new opportunities for volunteers to get involved close to home in support of agencies that provide essential services. But first, how do you know that the service provided by the agency is essential?
Per Governor Janet Mills' March 31, 2020 Executive Order (Executive Order #28 -- access here) and as defined by the U.S. Department of Homeland Security Cybersecurity & Infrastructure Security Agency, "Workers who support food, shelter, and social services, and other necessities of life for economically disadvantaged or otherwise needy" are considered essential. If your agency falls under one of those categories, your volunteers are considered essential.
If there is still some grey area in your mind, you can always check with the CEO or a Board member for further guidance. If you are still unsure, view detailed guidance from both State and Federal government, beginning on page seven of the following document – access the PDF.
Local efforts vs. formal emergency response efforts
We've discussed who is considered essential, now here's the important part: the difference between local efforts and agencies that are part of the formal emergency response effort. Why is this distinction important? Mainly, it comes down to safety and responsibility. As we collectively try to slow the spread of COVID-19, we shouldn't be encouraging volunteers to go out into the wild unless their service is necessary. For agencies not part of the formal response, there are still creative ways to safely deliver local services while not putting others at risk.
Sound confusing? Allow us to explain further!
Formal emergency response: These are members of Maine Voluntary Organizations Active in Disaster (VOAD), Southern Maine Community Organizations Active in Disaster (COAD), or other formal emergency response agencies. For the most part, these agencies are still relying on in-person volunteers to help during this time of great vulnerability, while following strict social distancing guidelines.
Local efforts: These initatives, such as phone reassurance for seniors and virtual mentoring, are not part of the formal emergency response. Volunteers not engaged in essential services can support virtual or remote service delivery if the local program has transitioned to that mode, especially while we wait out the stay at home order.
One more quick note about formal emergency response volunteering: The State recently launched Maine Ready, a new website that provides state, county, and other emergency response and management organizations a virtual way to coordinate offers of help with on-the-ground needs for assistance. Maine Ready is a joint effort of the Maine Emergency Management Agency (MEMA), Maine CDC - Public Health Emergency Preparedness (PHEP), and us here at Volunteer Maine.
If you manage volunteer efforts at one of these agencies, and need emergency volunteer support, stop what you are doing and register the agency on Maine Ready! Check out the website for yourself – access Maine Ready.
REMEMBER: Please only register on Maine Ready if your agency is part of formal, emergency response efforts. For more information and resources about local efforts, check out the following info page on Maine Ready – access the page.
What's next?
The second part in our three-part series of tips focuses on strategies that local agencies can use to adapt to provide safe volunteering. Access the part two here.
Follow Volunteer Maine on social media
Categories
Disaster Volunteering
Volunteer Leadership
Volunteer Tips