Volunteer managers in Maine already have a lot to juggle, but a worldwide pandemic has created a new set of challenges that need to be dealt with immediately. Agencies that provide food, shelter and/or support services now have to quickly prop up plans to continue serving in a safe manner, and in some cases, how to safely expand capacity.
With so much new to think about, and with it being National Volunteer Week, we at Volunteer Maine have pulled together a three-part series featuring tips and resources to help volunteer managers navigate the COVID-19 outbreak. We hope this information is helpful, and we would like to extend a huge thank you to those going above and beyond – such as the volunteers, managers and board members –to help Mainers in need.
Part 3: Details count!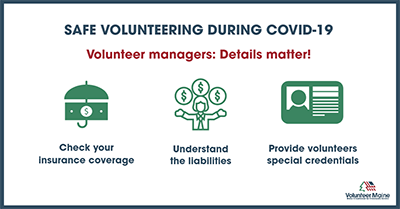 As in any crisis, it can be easier-than-normal to overlook the details. To wrap up our tips, we wanted to leave volunteer managers with a few additional items to keep in mind.
Do you have a system to keep track of on-site volunteers? If your agency is still operating on-site, it's crucial to have a handle on who is supposed to be in the building, and that all volunteers are following proper safety guidelines. One way to differentiate volunteers is to give each a simple and recognizable credential, like a name tag or a badge. Depending on the size and layout of the facility, volunteer managers can even create their own levels of access to establish which areas are safe for volunteers to enter.
Have you reviewed your insurance policy lately? Accidents happen. It's a fact. And they will continue to happen as we collectively navigate this pandemic. That's why it's a good idea for volunteer managers to get reacquainted with the agency's insurance policy. As stated by the Nonprofit Risk Management center, "Fear of incurring personal liability for volunteer service isn't uncommon among the estimated 90 million Americans who perform volunteer service each year." The agency may already have a policy that covers volunteers, but how far does that coverage extend? Are volunteers covered if they become ill or go through a medical emergency while serving? Could you provide support to the volunteer if that individual needs financial assistance? (Yes, it's a best practice for agencies to do so!) Or what if the volunteer becomes injured while performing duties at their own home? Yes, there's lots to think about, but the good news is there are a variety of coverage options for both agencies and volunteers. Check out the following blog post on insurance for volunteer programs, courtesy of the Nonprofit Risk Management Center - access the blog post here.
What's at risk? For those facilitating volunteer activities, especially on-site projects, accessing risk can help determine just how much of an impact COVID-19 will have on an organization. In fact, Tobi Johnson and the team at Tobi Johnson & Associates touched on the importance of going through a risk management assessment process in a recent blog. (Sidebar: The post is also full of helpful COVID-19 resources for volunteer managers - access it here.) In the piece, the author shares five common risks to consider in the assessment: people, property, reputation, income and liability. After brainstorming and prioritizing the risks in each category, Tobi and her team provide volunteer managers with an exercise to help determine if the risk should be avoided, modified, retained or shared. When going through the process, it's crucial to keep this in mind: What's the purpose of the service, and what is the risk associated if it's offered in a different way? Just because you though of a solution doesn't mean you should go forward without assessing the pitfalls that may lie around bend! Check out the full post (link above), and get your risk management assessment going!
Volunteer managers: We want to hear from you!
There's no one-size-fits-all approach to adapting to life during COVID-19, and that applies to volunteer managers and leaders. So, we want to know, how have you adapted to continue serving the Mainers who rely on your agency? Share your story with Bryan, our communications officer, by sending him an email at bryan (dot) roche (at) maine (dot) gov. We just might feature your story in an upcoming series for our website and social media channels.
Check out part one and two of the series:
"Managing volunteers in the age of COVID-19: Which agencies and volunteers are considered essential in Maine?" -- access here
"Managing volunteers in the age of COVID-19: How can local agencies adapt to provide safe volunteering opportunities?" -- access here
Follow Volunteer Maine on social media
Categories
Disaster Volunteering
Volunteer Leadership
Volunteer Tips