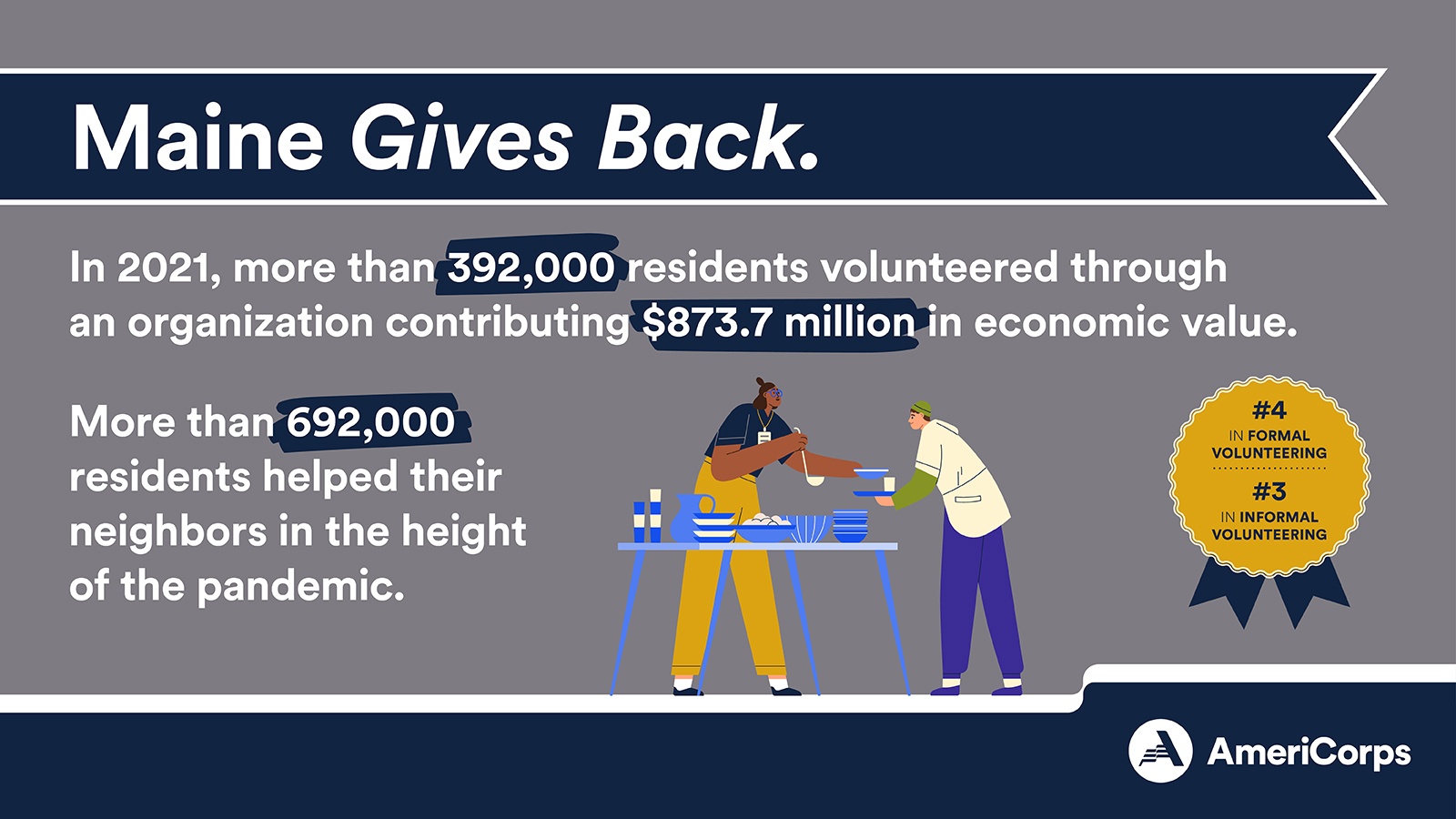 AUGUSTA -- Volunteer Maine, the Maine Commission for Community Service, announced 392,000 volunteers served 32.6 million hours in Maine between September 2020 and 2021 despite the ongoing COVID-19 pandemic, according to the Volunteering and Civic Life in America research. The research also estimates that volunteers generated nearly $873.7 million in economic value in the state.
The community contributions by Maine volunteers earned a ranking of fourth for formal volunteering with a formal volunteer rate of 34.9% and third for informal volunteering with a rate of 65%. This is the first Volunteering and Civic Life in America report since 2015 that included state-specific data. In 2015, Maine earned an 11th place ranking with a formal volunteer rate of 31.6%.
Formal volunteering involves helping others through an organization. Informal volunteering involves helping others outside of an organizational context, including doing taking meals to neighbors, watching each other's children, stacking wood, plowing a driveway, running errands, and other things to lend a hand.
"We have all wondered how volunteering changed through the pandemic," said Maryalice Crofton, Executive Director of Volunteer Maine. "This data -- the first state level since 2015 -- shows us that there was a shift in volunteering but very little shrinkage. The challenge now is to understand the shift and help community programs adjust so they can add new volunteers."
The Volunteering and Civic Life in America research is the most comprehensive data on American volunteering and civic engagement assembled. Based on a survey conducted by AmeriCorps and the US Census every other year, the research includes data on volunteering through organizations, informal helping and other civic behaviors. Use the link below to view the research in its entirety.
Volunteering and Civic Life in America webpage
The most recent results find that over half of Americans, or 124.7 million people, informally helped their neighbors at least once in the past year. Additionally, more than 23 percent of Americans, or 60.7 million people, formally volunteered with an organization, giving more than 4.1 billion hours of service with an estimated economic value of $122.9 billion. 
Volunteer Maine is currently accepting nominations for its in-state volunteer recognition program, the annual Governor's Awards for Service and Volunteerism. Since 1987, the Governor's Awards for Service and Volunteerism have celebrated and recognized the role of citizen volunteers in the success and vitality of Maine communities. Nominations are due by February 28 at 11:59 p.m. Use the link below to access more information.
Governor's Awards for Service and Volunteerism webpage
AmeriCorps brings people together across divides and bring communities back stronger for a more united America. National service and volunteer opportunities open doors for Americans to positively impact their communities, build constructive action, and foster a sense of belonging. Use the link below to learn more about AmeriCorps in Maine.
###
About Volunteer Maine
Volunteer Maine, the state service commission, builds capacity and sustainability in Maine's volunteer sector by funding service programs, developing volunteer managers and service-learning practitioners, raising awareness of the scope and the impact of the volunteer sector, and encouraging an ethic of service. On Oct. 16, 2019, the Maine Commission for Community Service adopted the public identity Volunteer Maine.
Media contact
Bryan Roche, Communications Officer, Volunteer Maine
Office: (207) 624-7836
Cell: (207) 446-3471
Email: bryan.roche@maine.gov
About AmeriCorps
AmeriCorps, the federal agency for volunteerism and national service, provides opportunities for Americans to serve their country domestically, address the nation's most pressing challenges, improve lives and communities, and strengthen civic engagement. Each year, the agency invests in grants for local nonprofit, community, tribal, and state organizations; places more than 200,000 AmeriCorps members and AmeriCorps Seniors volunteers in intensive service roles; and empowers millions more to serve as long-term, short-term, or one-time volunteers. Learn more at AmeriCorps.gov.
Additional coverage
"Maine ranks fourth in the country in volunteer impact, according to report" -- Courier-Gazette -- read the story
Categories
AmeriCorps
Awards and Accolades
The Commission