About the Process
Points of Light has developed a research-based solution that gives organizations insights into their human capital strategies to achieve their social mission. This solution produces high performing organizations that have volunteers deeply integrated into their strategic plan and day to day operations; allowing them to maximize resources to better meet their mission. We call these organizations Service Enterprises. Research shows that Service Enterprises out perform their peers on all measures of organizational capacity. These agencies are better led, better managed and operate at almost half the median budget as their peers. They are also more adaptable, sustainable and capable of achieving scale (TCC Group, 2009). 
POL is currently delivering this human resource solution in partnership with state service commissions and volunteer centers in 15 states and has developed a menu of offerings to help organizations at varying degrees of readiness more effectively meet their mission through the strategic engagement volunteers.
The Service Enterprise Solution
To begin the Service Enterprise process, organizations complete an application that collects baseline data on how they currently engage volunteers. After the application, organizations complete the only empirically proven assessment in the sector called the Service Enterprise Diagnostic (SED). The organization's Executive Director and at least two other senior leaders are required to take the SED along with other key stakeholders in the organization. A trained consultant/coach briefs the organization on the findings of the assessment and works with staff and/or volunteers to develop an action plan. This iterative plan serves as a framework for the organization as it completes a 16-hour change management training series and begins rethinking and rebuilding its volunteer human capital strategy. Participants also begin to analyze their organizations return on volunteer investment (ROVI). Additional training on skills based volunteering, basic volunteer management, evaluation, technology and other areas is provided to organizations to help them achieve their goals outlined on their action plan.  When ready, these organizations are eligible to receive a Service Enterprise certification that represents their proven ability to live out the research based Service Enterprise characteristics ranking them among a prestigious group of organizations committed to effectively delivering on their missions by strategically engaging volunteer time and talent. This process can take organizations anywhere from three to 12 months to complete and certification lasts for a two-year period.
See the process wheel diagram below.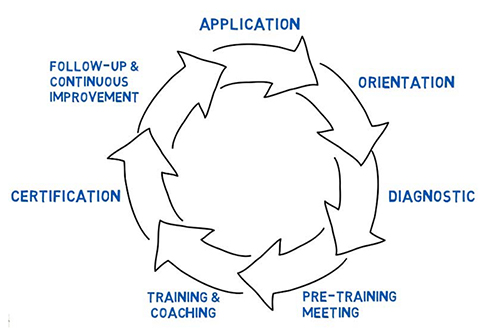 Additional Research Findings
Research conducted by Deloitte identified these 10 characteristic outcomes of Service Enterprises: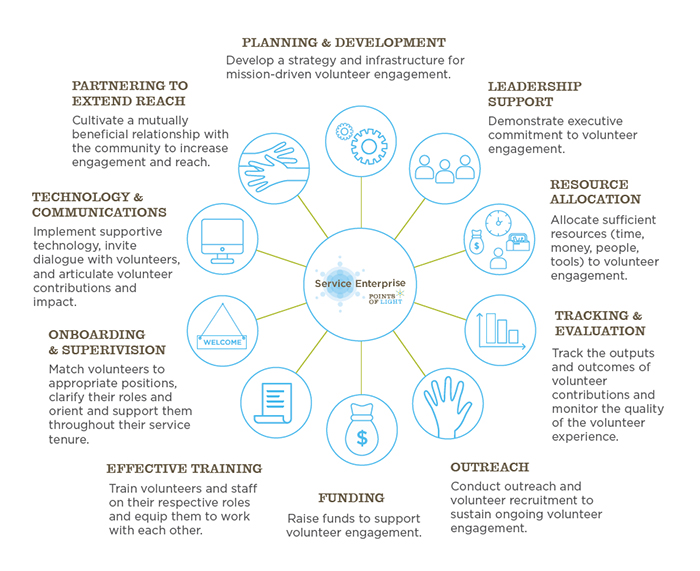 Accessible version of 10 characteristic outcomes of Service Enterprise (PDF)
Your organization will receive:
A thorough assessment of your existing organizational capacity and volunteer engagement practices
Up to 16 hours of training to assist in re-tooling the roles and ways in which your organization engages volunteers
Individualized consulting to address unique organizational opportunities and challenges
Your organization will participate with a cohort of organizations in your area. As outlined in the Organizational Structure page, Service Enterprise has a decentralized model with regional hubs scheduling and leading the cohorts. For more information on the impact of Service Enterprise training, go to the What is Service Enterprise? page.