Conference basics
Where: Online venue
When: Tuesday, Oct. 13, 2020 8:45 a.m. – 4:30 p.m.
Registration deadline: Oct. 2, 2020
Cost: $40 for individuals, $100 for a watch party
View the link for registration and details
Maine's only statewide educational event focused on engaging citizens in volunteer service moves online, expands opportunities for participation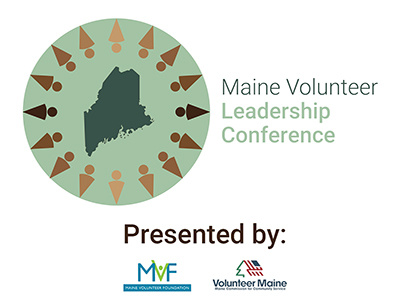 AUGUSTA -- Volunteer Maine, the state service commission, is excited to announce that the 34th edition of the Maine Volunteer Leadership Conference will be held online Tuesday, Oct. 13, 2020. The conference is presented by the Maine Volunteer Foundation and Volunteer Maine.
Among the nine available learning sessions, discussion topics will include the role volunteer engagement can play in the move to eliminate systemic racism; recommendations to instill an ethic of service in the United States and their implications for Maine communities; and strategies to help volunteer leaders adapt to the COVID-19 landscape and continue to engage volunteers.
Rob Jackson, Director of Rob Jackson Consulting Ltd, will be this year's keynote speaker and will present two learning sessions. With more than 25 years of experience in the nonprofit sector, Jackson's keynote and training will look at some of the key ways in which society is changing and how these changes affect volunteerism. Jackson will also discuss what leaders of volunteers can do to update their practices to accommodate these changes, further enhancing their engagement and retention of 21st century volunteers.
Additional session leaders include Beth Steinhorn (VQ Strategies), Jennifer Rackow (JEngergy International), Melissa Hewey (Drummond Woodsum), Natalye Paquin (Points of Light Institute), and Steve Barney (National Commission on Military, Public, and National Service).
Conference registration is open until Oct. 2, 2020. A full list of sessions, list of speakers and online registration is available on the Volunteer Maine website -- access the information here. The conference fee is $40 for for individuals or $100 to host a watch party. New this year, the watch party option offers local volunteer program leaders an opportunity to celebrate and re-energize by being with peers in an office or conference room setting, even if it is just for a day.
For 34 years, organizers of Maine community volunteer efforts have gathered to learn, network, and share thought-provoking discussions from regional and national leaders in the volunteer sector. This year, the Maine Volunteer Leadership Conference's online venue hopes to expand opportunities for participation. The conference annually attracts between 250 and 300 volunteer managers.
Check the Volunteer Maine website as well as the Volunteer Maine Facebook page throughout September for information on available discounts. Access the Facebook page here.
About Rob Jackson, Director, Rob Jackson Consulting Ltd
Rob Jackson is Director of Rob Jackson Consulting Ltd, a consultancy and training company that helps engage and inspire people to bring about change. Rob has more than 25 years experience working in the voluntary and community sector, holding a variety of strategic development and senior management roles that have focused on leading and engaging volunteers. Rob has run his company since 2011 working with a wide range of clients in the UK, Australia, New Zealand, Europe, the USA and Canada. Rob is co-author of The Complete Volunteer Management Handbook (DSC, 2012 and 2019) and From The Top Down - UK Edition (Energize Inc., 2015).
About Volunteer Maine
Volunteer Maine, the state service commission, builds capacity and sustainability in Maine's volunteer sector by funding service programs, developing volunteer managers and service-learning practitioners, raising awareness of the scope and the impact of the volunteer sector, and encouraging an ethic of service. On Oct. 16, 2019, the Maine Commission for Community Service adopted the public identity Volunteer Maine.
Media contact
Bryan Roche, communications officer
Office: (207) 624-7836
Cell: (207) 446-3471
Email: bryan.roche@maine.gov
View additional media coverage:
"Maine Volunteer Leadership Conference to take place online Oct. 13" -- Kennebec Journal/Morning Sentinel -- view here
Categories
Training and Professional Development
Volunteer Leadership