Commission Chair Branham to continue in role, Commissioners Tilton-Flood and Barczyk to hold leadership positions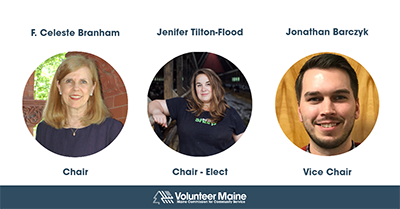 AUGUSTA -- ­ F. Celeste Branham, Jenifer Tilton-Flood and Jonathan Barczyk have been elected to serve as officers on the Volunteer Maine State Service Commission. They will serve as Chair, Chair Elect, and Vice Chair, respectively. This proposed slate of officers passed with unanimous approval from Commissioners present at the June 26, 2020 meeting.
Branham, of Brunswick, ME, retired in 2018 as Vice President for Student Services at the University of Maine at Farmington. The Commission voted to extend her tenure as chair for an additional year.
"It is an honor to continue leading the Commission as it addresses the unprecedented challenges Maine faces during the pandemic. Maine's volunteer and service communities have played a pivotal role in responding to COVID-19 and will continue to do so. Along with committed Volunteer Maine Commissioners and our extraordinary staff, I look forward to extending my support for the many service efforts that will strengthen communities across Maine," she said.
Tilton-Flood, of Clinton, ME is a dairy farmer and a Farmer Spokesperson for Cabot Creamery Cooperative. "As Chair Elect I feel my most important responsibility is to learn, grow and develop in order to best serve Volunteer Maine, my fellow Commissioners and the mission of fostering and inspiring community service and volunteerism to meet the needs of the State of Maine and its people, stated Tilton-Flood." "I am looking forward to gaining more experience and being part of our leadership team of Chair Branham and Vice Chair  Barczyk, along with our amazing staff, in helping to steward the vision and put into practice the mission of Volunteer Maine.
Barczyk, of Mount Vernon, ME, is the Acting Public Affairs Officer and Chief of Voluntary Service for the VA Maine Healthcare System. Speaking of his new position, he said "I am proud to serve in a leadership role for the Commission in a time when Maine's volunteer community will be relied upon to help address the challenges ahead. I look forward to supporting my fellow Commissioners as we grow community service and volunteerism efforts throughout the state."
Commission seats are designated in statute such that each person represents at least one facet of the community volunteer service sector. Chair Branham occupies Seat 20, which is set aside for educators. Likewise, Chair Elect Tilton-Flood holds Seat 15, which is for "a representative of business." Vice Chair Barczyk occupies Seat 3, which is set aside for "an individual with experience in promoting involvement of adults aged 55 and older in national service and volunteerism."
About Volunteer Maine
Volunteer Maine, the state service commission, builds capacity and sustainability in Maine's volunteer sector by funding service programs, developing volunteer managers and service-learning practitioners, raising awareness of the scope and the impact of the volunteer sector, and encouraging an ethic of service. On Oct. 16, 2019, the Maine Commission for Community Service adopted the public identity Volunteer Maine. Visit MaineServiceCommission.Gov to learn more.