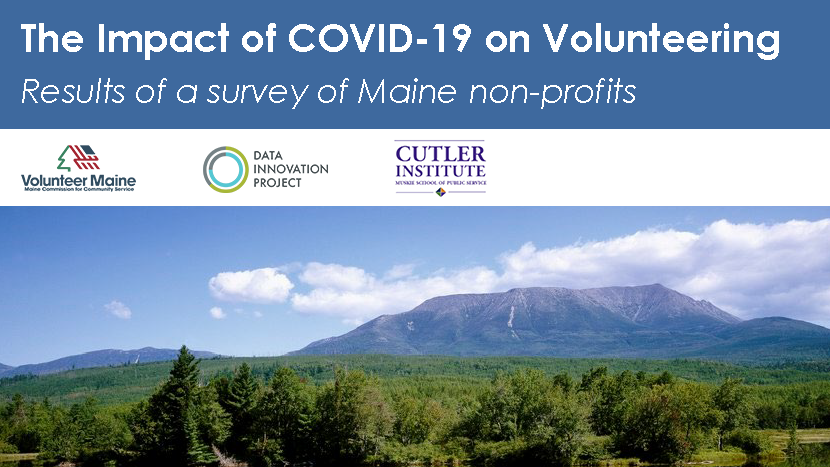 A survey has been conducted by the Data Innovation Project on behalf of Volunteer Maine, the state service commission, to help better understand the impact of COVID-19 on Maine's nonprofit volunteer base, identify innovative solutions to the current situation and gain useful insight into how Volunteer Maine and its member sites can most effectively contribute to the recovery efforts in communities across Maine.
The responses to the survey, "The Impact of COVID-19 on Volunteering," reveal "that COVID-19 volunteering at (the responding agencies) organization's decreased and some opportunities were severely limited." Respondents also indicated "These experiences were not notably different among rural-service organizations, although transportation and internet connectivity were more detrimental."
The Data Innovation Project and project partner the Survey Research Center are part of the the Cutler Institute for Health and Social Policy within the Muskie School of Public Service at the University of Southern Maine.
Among the other key conclusions revealed by the respondents:
Volunteer opportunities were severely limited, particularly in-person activities and activities involving the direct delivery of service
General labor (office work, operations, etc...) volunteering also decreased
Boards and work groups were able to continue, albeit in virtual or socially distanced settings
One-time volunteer opportunities had been eliminated or reduced
The number of volunteer hours decreased, overall
Respondents also identified the following reasons as to why volunteering decreased:
Event size limitations
Head count limitations
Changing service needs of the community
Temporary office closures
Respondents did identify the following as signals that point to a recovery of volunteer efforts in Maine:
The transition to remote or virtual volunteer opportunities
An increase in pandemic-related volunteer opportunities offered
Most organizations state they have been able to maintain internal capacity to support volunteering
Respondents stated the following as key areas of support that could be provided by Volunteer Maine:
Guidance on how to recruit volunteers to return, including messaging related to such efforts
Guidance on how to bring volunteers back safely, such as safe practice checklists
It should be noted that the authors of the survey did not have a way to reach or identify nonprofit volunteer organizations that have had to halt the delivery of services due to the pandemic.
The full report provides additional details behind the key conclusions, such as demographic breakdowns, an explanation on the methodology and a copy of survey questions. Please use the link below to view or download the full report.
In the third episode of our interview series, "Issues," Sarah Goan, director of the Data Innovation Project, and Kelsey Preecs, program officer for volunteer initiatives at Volunteer Maine, walk viewers through the findings. They also look at how the responses can be used to help nonprofit volunteer programs recover and evolve to deliver services to their respective communities across Maine.  
View the conversation below:
To learn more about the Data Innovation Project, please use the link below to visit their website.
Categories
The Commission
Video
Volunteer Leadership
Volunteer Opportunities
Volunteer Tips