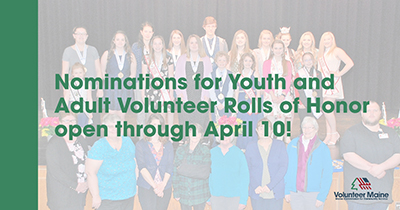 AUGUSTA -- Nominations are being accepted for the 2020 Maine Adult and Youth Volunteer Rolls of Honor, organized by Volunteer Maine, Maine's service commission. The nomination period closes Friday, April 10, 2020 at 5 p.m.
The Maine Volunteer Rolls of Honor are a statewide effort during national Volunteer Recognition Month (April) to show appreciation to those citizens who go above and beyond in terms of the time they devote to serving their communities. There is no cost to the nominator or person honored thanks to civic-minded supporters.
Adult nominees must be 19 years of age or older and volunteered at least 500 documented hours in the prior calendar year. Young Maine Volunteer Roll of Honor nominees must be 18 years of age or younger and volunteered at least 50 hours in the prior year. All volunteers certified as qualifying by the nominating program will be recognized. This is not a competitive recognition program.
All those named to the Rolls of Honor will be recognized on the field prior to the Portland Sea Dogs' annual Volunteer Appreciation Night game on Tuesday, April 21 at Hadlock Field in Portland, Maine. Each honoree will receive tickets to the game free of charge, a personalized certificate, and a commemorative service medal.
All nominations must be sent electronically. For information on how to submit a nomination, please visit the awards section of our website.
About Volunteer Maine
Volunteer Maine, the state service commission, builds capacity and sustainability in Maine's volunteer sector by funding service programs, developing volunteer managers and service-learning practitioners, raising awareness of the scope and the impact of the volunteer sector, and encouraging an ethic of service. On Oct. 16, 2019, the Maine Commission for Community Service adopted the public identity Volunteer Maine..
Media Contact
Bryan Roche, communications officer, Volunteer Maine
Office: (207) 624-7836
Cell: (207) 446-3471
Email address: bryan.roche@maine.gov