NEW GLOUCESTER – Join Volunteer Maine and Unity Environmental University for a lunch and learn presentation featuring Dr. Marianne Krasny of Cornell University. 
Event basics
Please RSVP by October 4, 2023 by 12:00 p.m.
Date: Friday October 6, 2023
Venue: Room 227 Freeport Hall, Unity Environmental University, New Gloucester, Maine
Time: 11:30 am-1:30 pm
Technical Institute for Environmental Professions - Google Maps
Click to Register
The Maine Climate Corps Network is a strategy in Maine Won't Wait, the State's Climate Action Plan. Incorporating volunteerism and service into climate action is an opportunity to engage and strengthen Maine's people and communities. Join us at Unity Environmental University's lovely New Gloucester campus inside Pineland Farms to learn more about the value of these programs to meeting our ambitious climate goals.
Dr. Krasny studies the individual, community, and environmental outcomes of community-based environmental stewardship ('civic ecology'). Dr. Krasny will speak to the value of 'civic ecology' and 'network climate action'. Civic ecology practices, such as community gardening, tree planting, or oyster restoration, are means for community to rebuild and express resilience. Network climate action is the idea that our own ordinary actions can influence and inspire those close to us.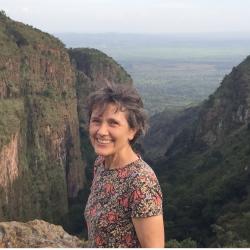 Maine Climate Corps Coordinator, Kirsten Brewer, will share an update on the Maine Climate Corps with information about how organizations, communities, and individuals can get involved.
Marianne E Krasny is professor in the Department of Natural Resources and the Environment, and Director of the Civic Ecology Lab at Cornell University. She recently completed a book entitled In This Together: Connecting with Your Community to Combat the Climate Crisis (Cornell University Press, March 2023). Her previous books include Communicating Climate Change: A Guide for Educators (with A Armstrong and J Schuldt), Civic Ecology: Adaptation and Transformation from the Ground Up (with K Tidball), Urban Environmental Education Review (with A Russ), Grassroots to Global: Broader Impacts of Civic Ecology and Advancing Environmental Education Practice. She leads efforts to teach environmental and climate education Massive Open Online Courses (MOOCs) for international audiences, and to facilitate online learning and resource sharing communities for over 12,000 environmental activists and educators globally. Dr Krasny was director of EPA's National Environmental Education Training Program, and of the Garden Mosaics community gardening education program, and is a Public Voices Fellow and an International Fellow of the Royal Swedish Academy of Agriculture and Forestry.
About Volunteer Maine
Volunteer Maine builds capacity and sustainability in Maine's volunteer sector by funding service programs, developing volunteer managers and service-learning practitioners, raising awareness of the scope and the impact of the volunteer sector, and encouraging an ethic of service. On Oct. 16, 2019, the Maine Commission for Community Service adopted the public identity Volunteer Maine.
About Unity Environmental University
Unity Environmental University is at the forefront of shaping a sustainable future, equipping a diverse student body to thrive in the burgeoning green economy. With a legacy spanning more than half a century, we collaborate with global enterprises, governmental bodies, educational institutions, and philanthropic organizations to tackle pressing environmental challenges on a global scale.
Media contact
Kirsten Brewer, Maine Climate Corps Coordinator
Office: (207) 624-7785
Email: Kirsten.Brewer@maine.gov
Categories
The Commission
Training and Professional Development
Volunteer Leadership