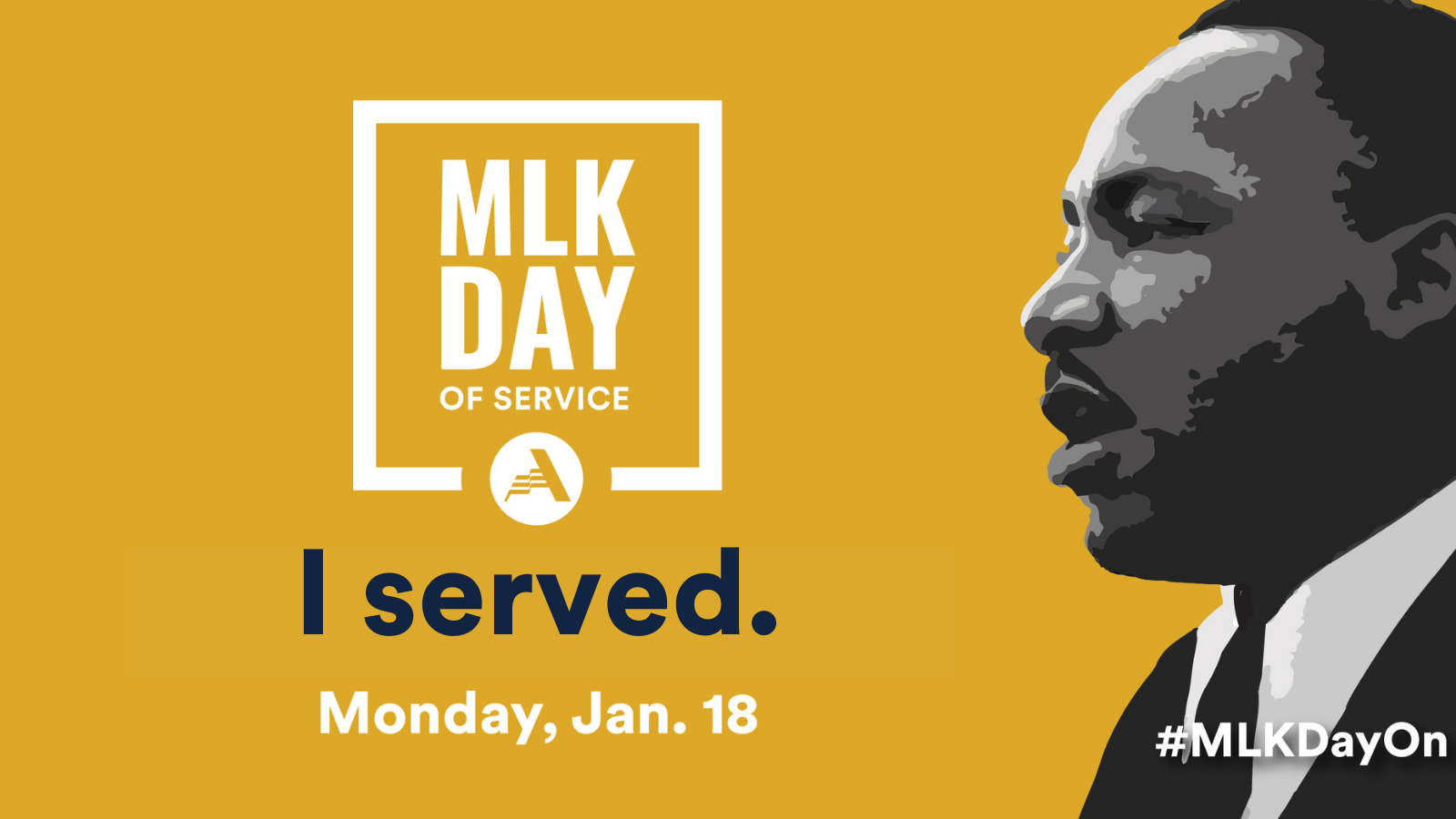 Since 1995, the annual observance of Dr. Martin Luther King, Jr.'s birthday has been a National Day of Service. Promoted as "A Day 'On' not A Day Off," it is an important time for Mainers and all Americans to take action in response to life's most persistent and urgent question: 'What are you doing for others?"
This year, organizations and volunteers throughout Maine set out to continue this long-running service tradition while trying to navigate the COVID-19 pandemic. As always, Mainers find a way to get things done.
Read on to learn about some of the MLK Day of Service projects hosted in Maine. Please be sure to check back in for further updates.
For more information on AmeriCorps programs in Maine, please visit the AmeriCorps page of our website here.
Last update: 1/21/21
LearningWorks Aim High AmeriCorps
"In accordance with the MLK Day of Service, Aim High partnered with LearningWorks AfterSchool (LWAS) to distribute a generous donation of children's books from Friends School of Portland. The book donation is an annual holiday collaboration by the Friends School's first and second grade classroom and their fifth and sixth grade buddies. The students usually collect an average of about 300 books, but this year they brought in extra holiday cheer with a whopping 592 books!
The books were fastidiously sorted according to reading level by Aim High AmeriCorps Member Matt Hagopian. Additional members will safely distribute the books directly to our LWAS students at their homes. We're excited to provide students and families with appropriately leveled reading materials to support cozy home learning this winter."
Text/photo credit: Hayli Hu Kinney/LearningWorks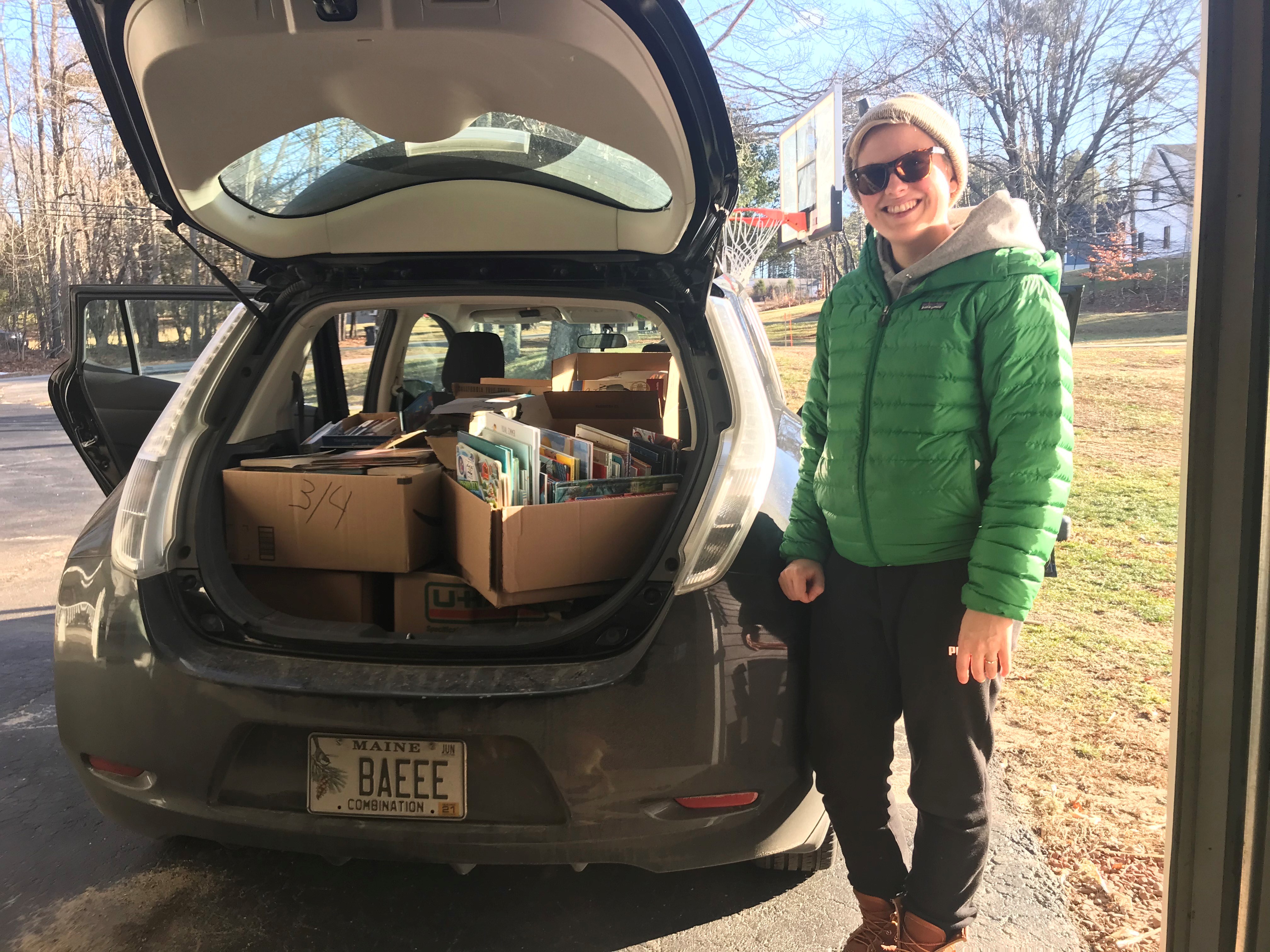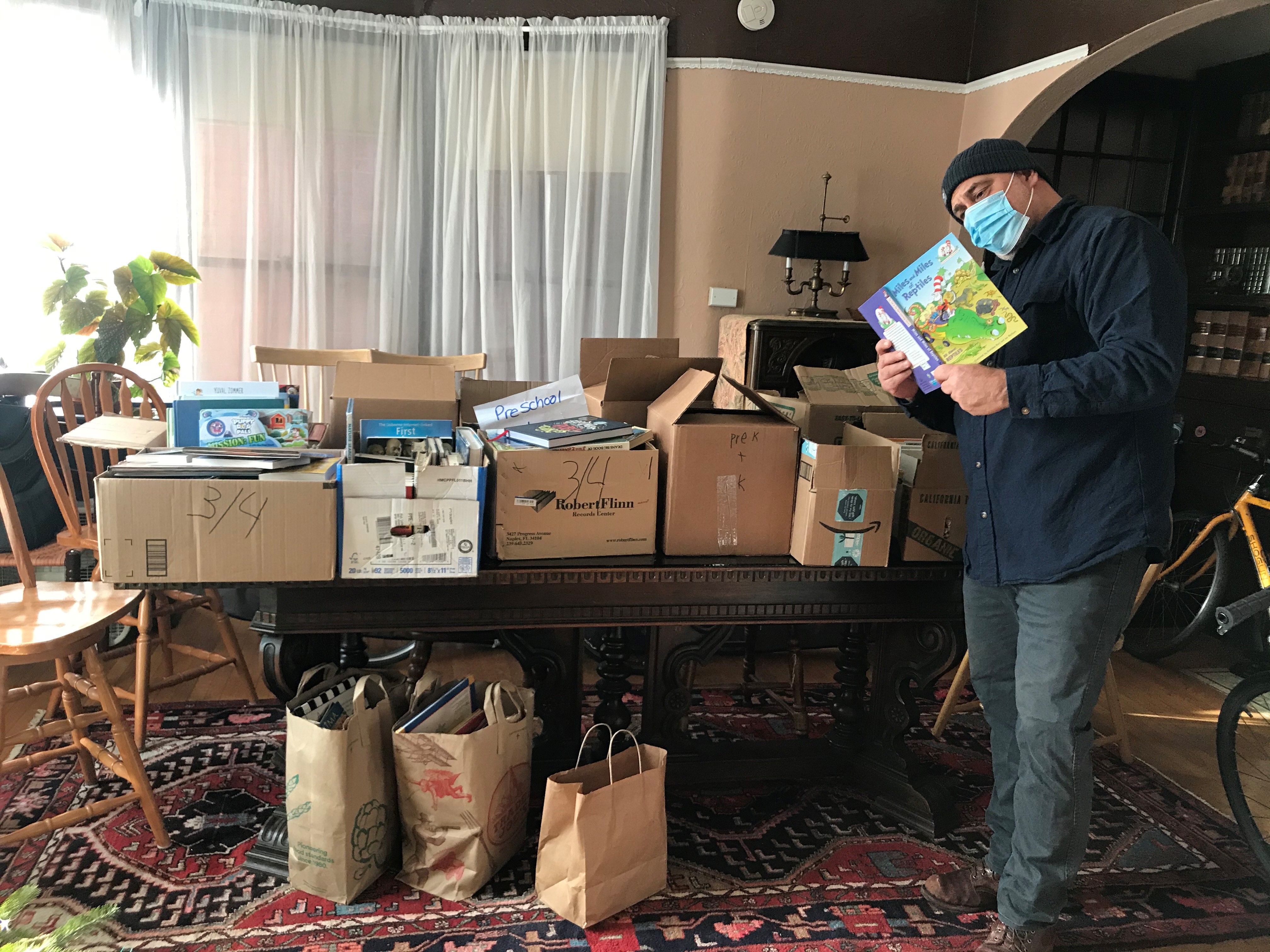 First4 AmeriCorps
"First4 AmeriCorps members are reading books aloud to the children in their Head Start and Early Head Start service sites this week, leading up to MLK Jr. Day. These books share MLK's messages of love, dreams, unity, diversity, and hope. Members have developed and will lead follow-up activities to punctuate that message." 
Text/photo credit: Abbie Giallombardo/First4 AmeriCorps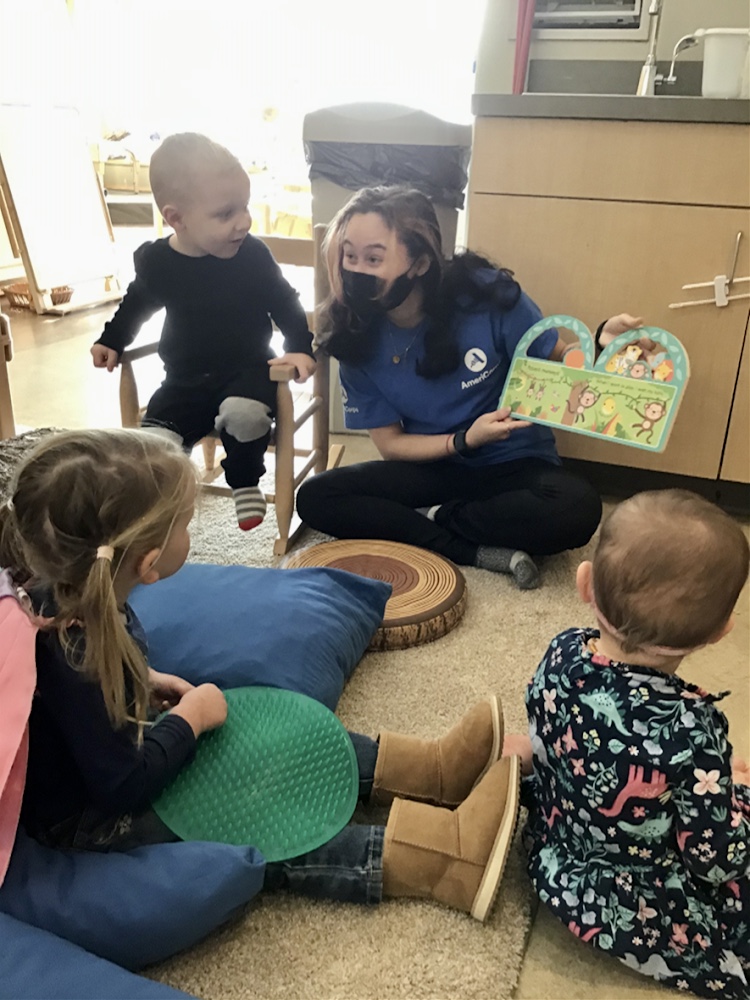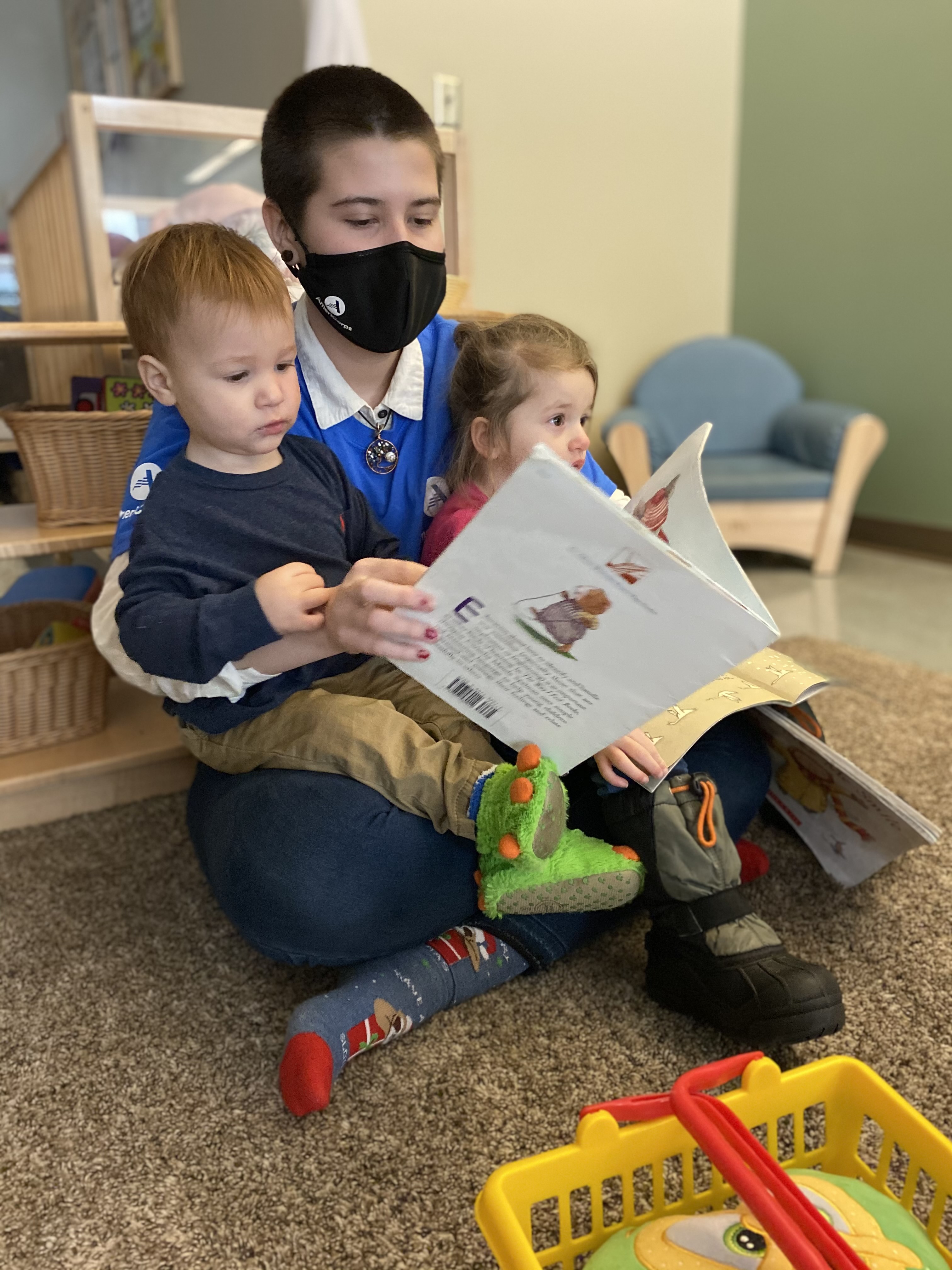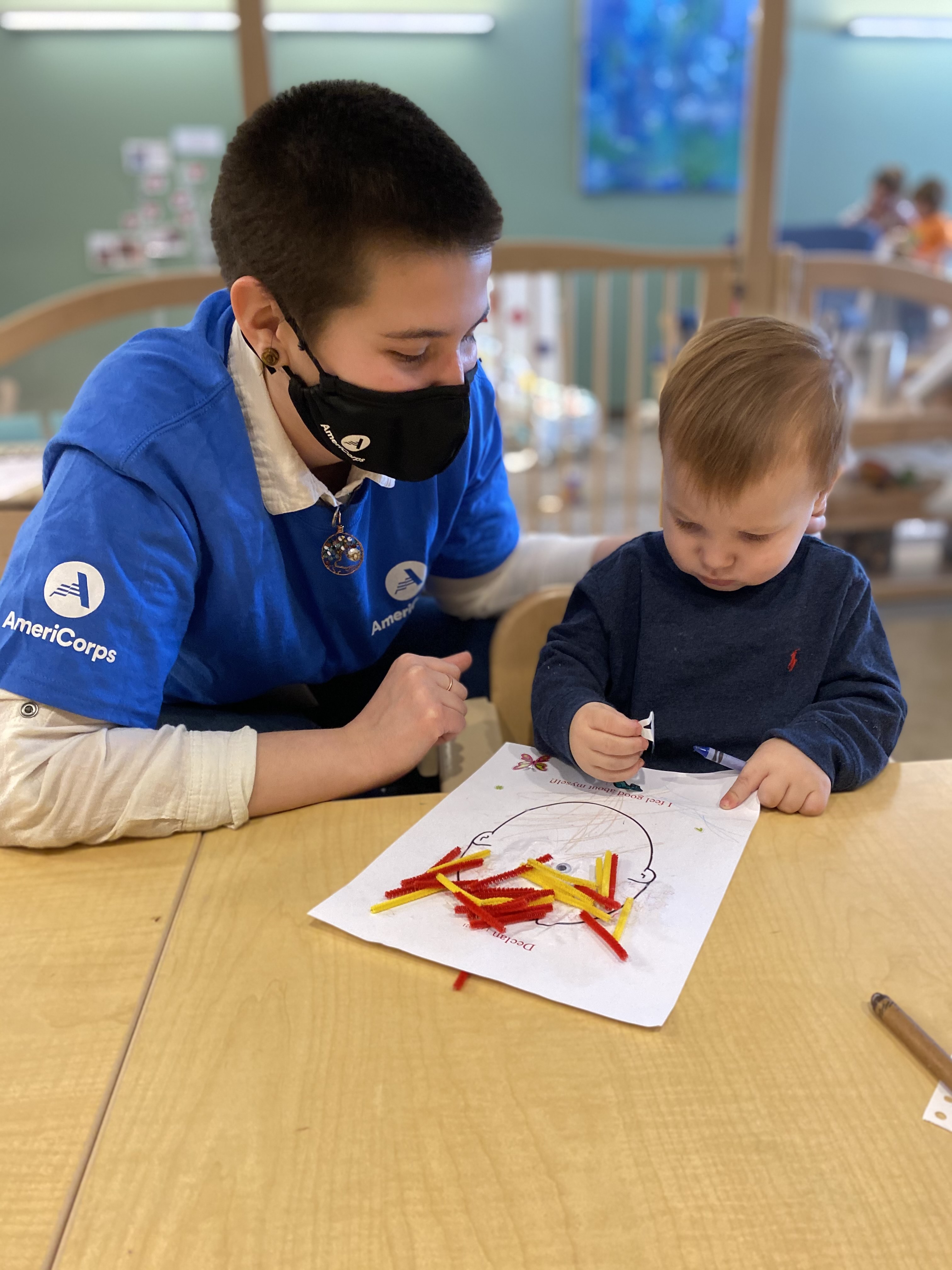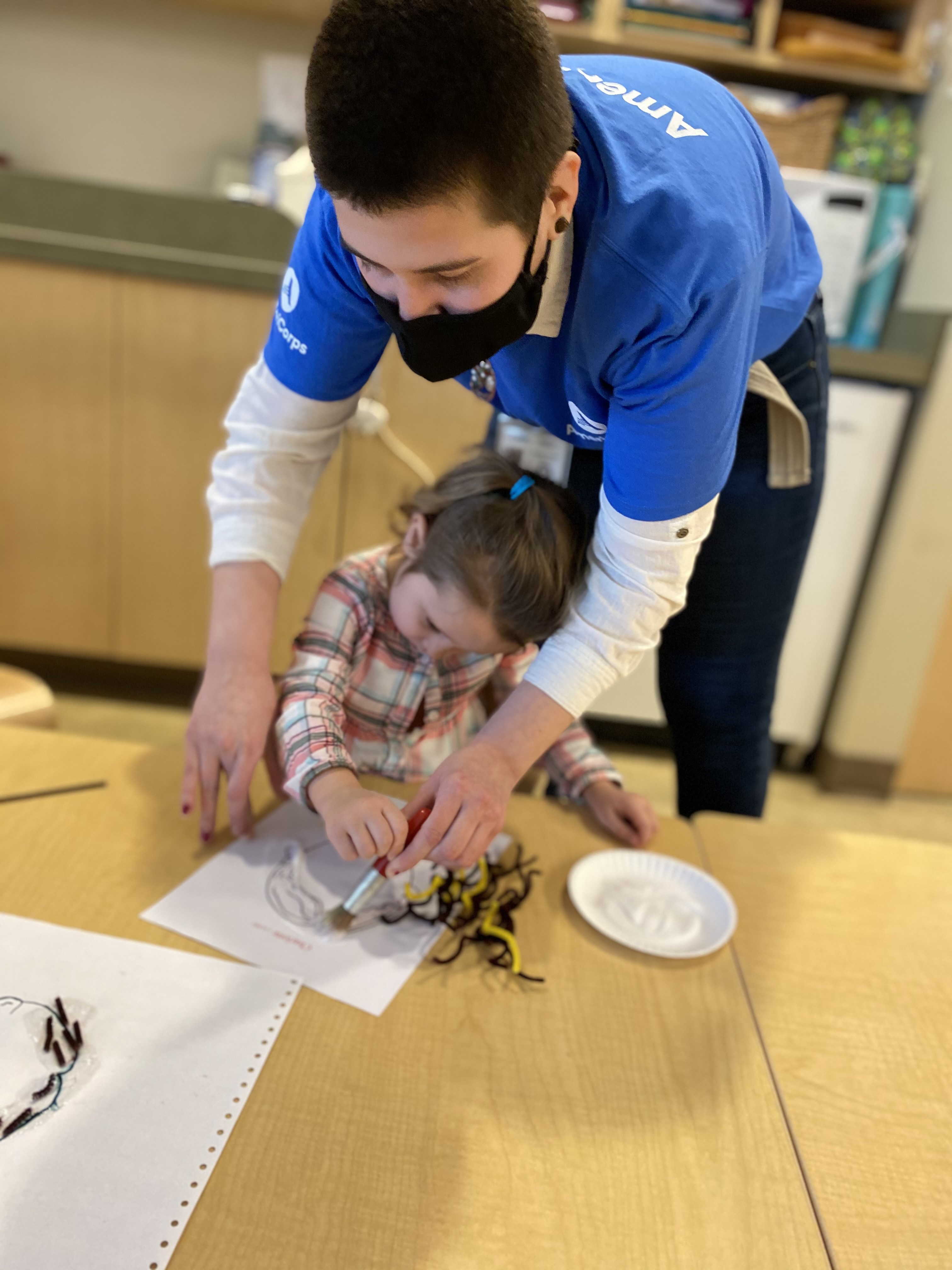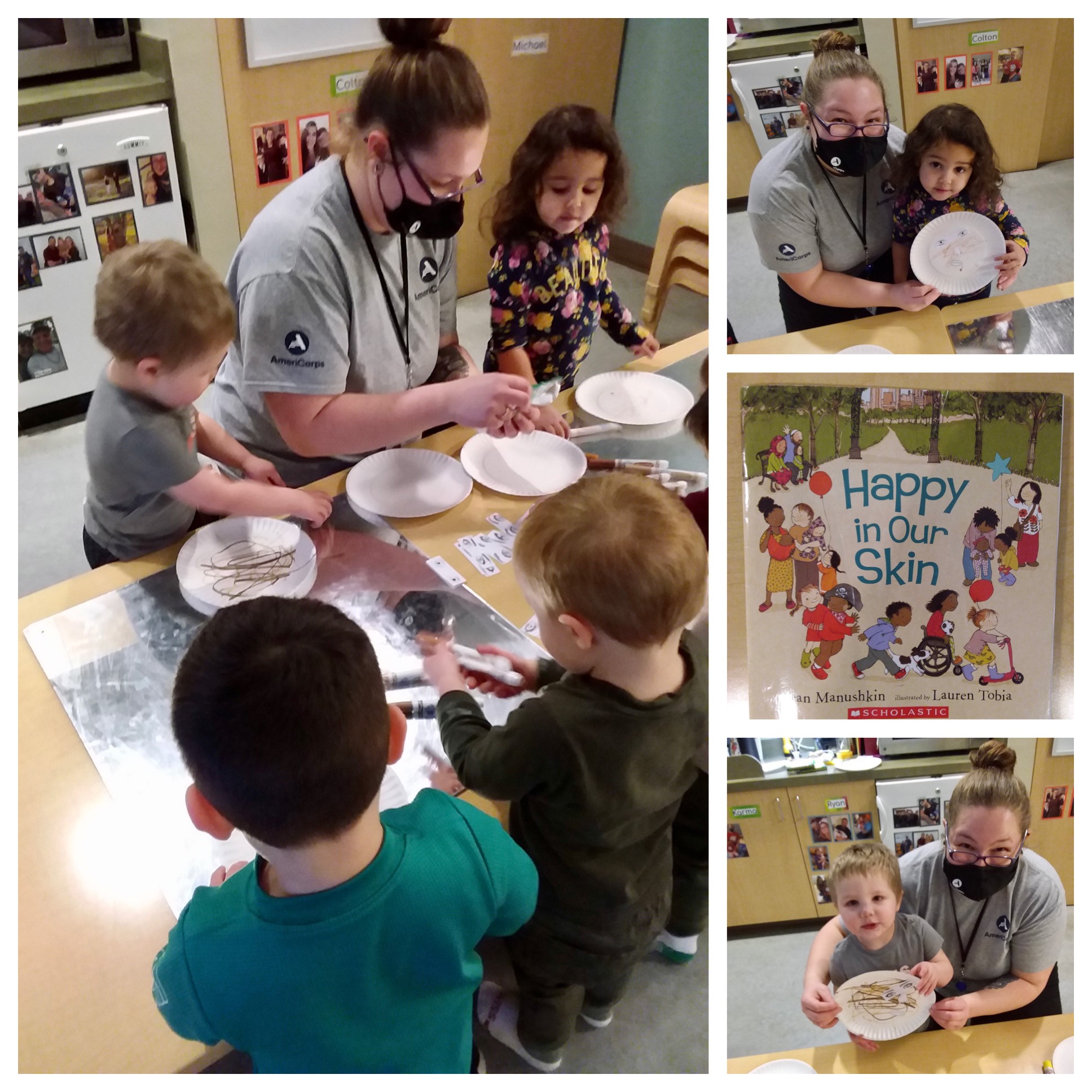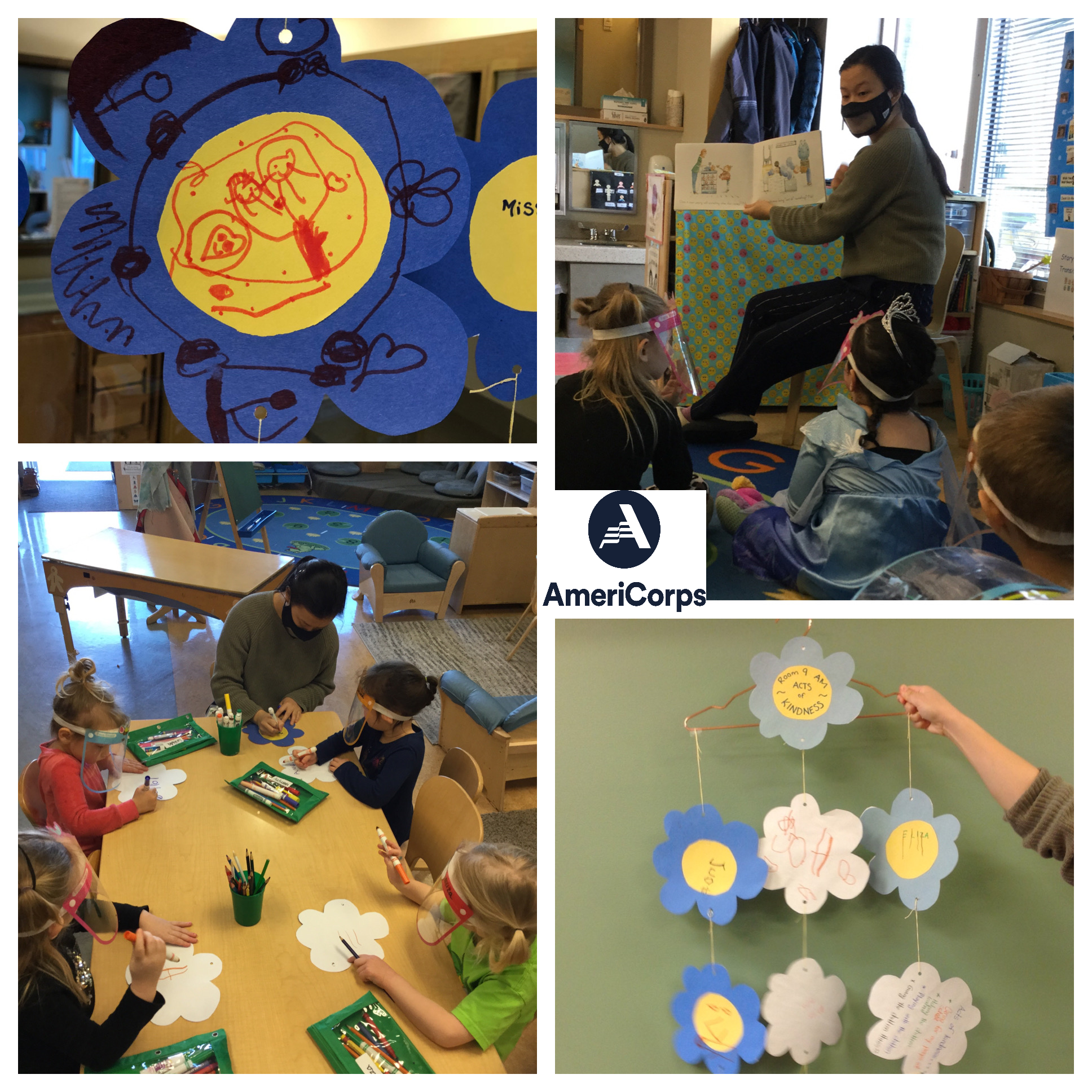 Maine Conservation Corps
The MLK Day of Service is an opportunity to remember Dr. King's life and re-commit ourselves as citizens to answer that question by volunteering to serve one another and our communities.
Maine Conservation Corps has been committed to helping the local community on this day for several years. We focus on local organizations helping individuals meeting basic needs for this day. Due to COVID 19, we did not be facilitate donations due to social distancing guidelines, however, we still encouraged our network to celebrate Dr. Kings legacy by helping neighbors in need. Whether shoveling a neighbors porch, dropping off groceries or toiletries, writing some greeting cards to those in nursing homes or picking up trash in your neighborhood, we applaud these efforts.
Once again, MCC partnered with Bridging the Gap Center for Resources, a nonprofit that serves folks in need by offering items that cannot be purchased with SNAP benefits to those who need them. We collaborated to hold a curbside drop-off program on Mon. the 18th, allowing folks to bring donations right to Bridging the Gap in Augusta, ME.
Coretta Scott King, Dr. King's widow, once said, "The greatest birthday gift my husband could receive is if people of all racial and ethnic backgrounds celebrated the day by performing individual acts of kindness through service to others."
We enjoyed celebrating Dr. King's legacy through helping our neighbors, and we hope you did the same!
Text credit: Maine Conservation Corps
Game Loft AmeriCorps Program
"We traveled 102 miles and delivered food, hygiene supplies, treats, socks, and books to 19 families in rural Waldo County. Our new AmeriCorps member, Zach Dewey, was able to meet families and make contacts with our kids while maintaining social distancing."
Text/photo credit: Patricia Estabrook/The Game Loft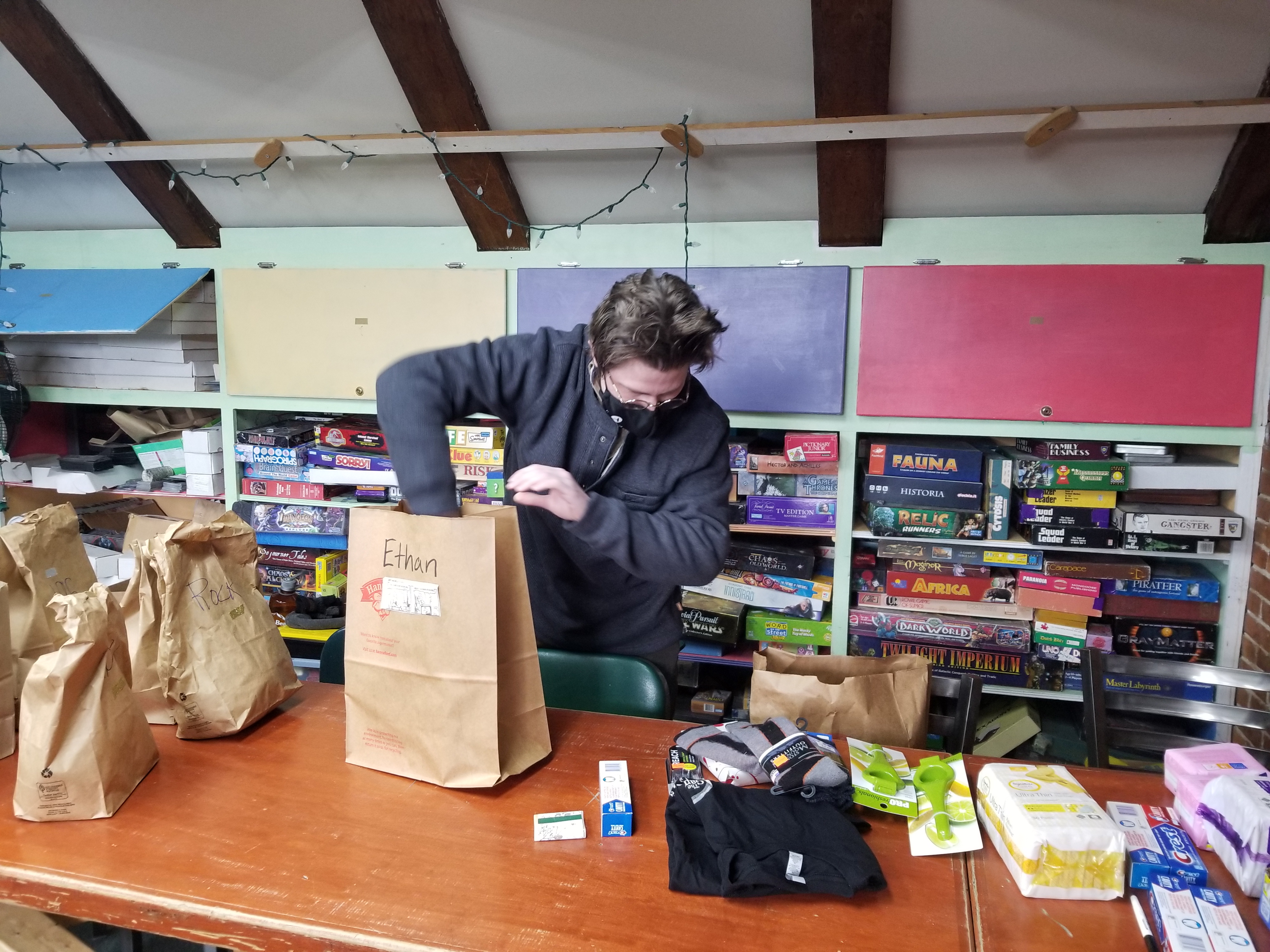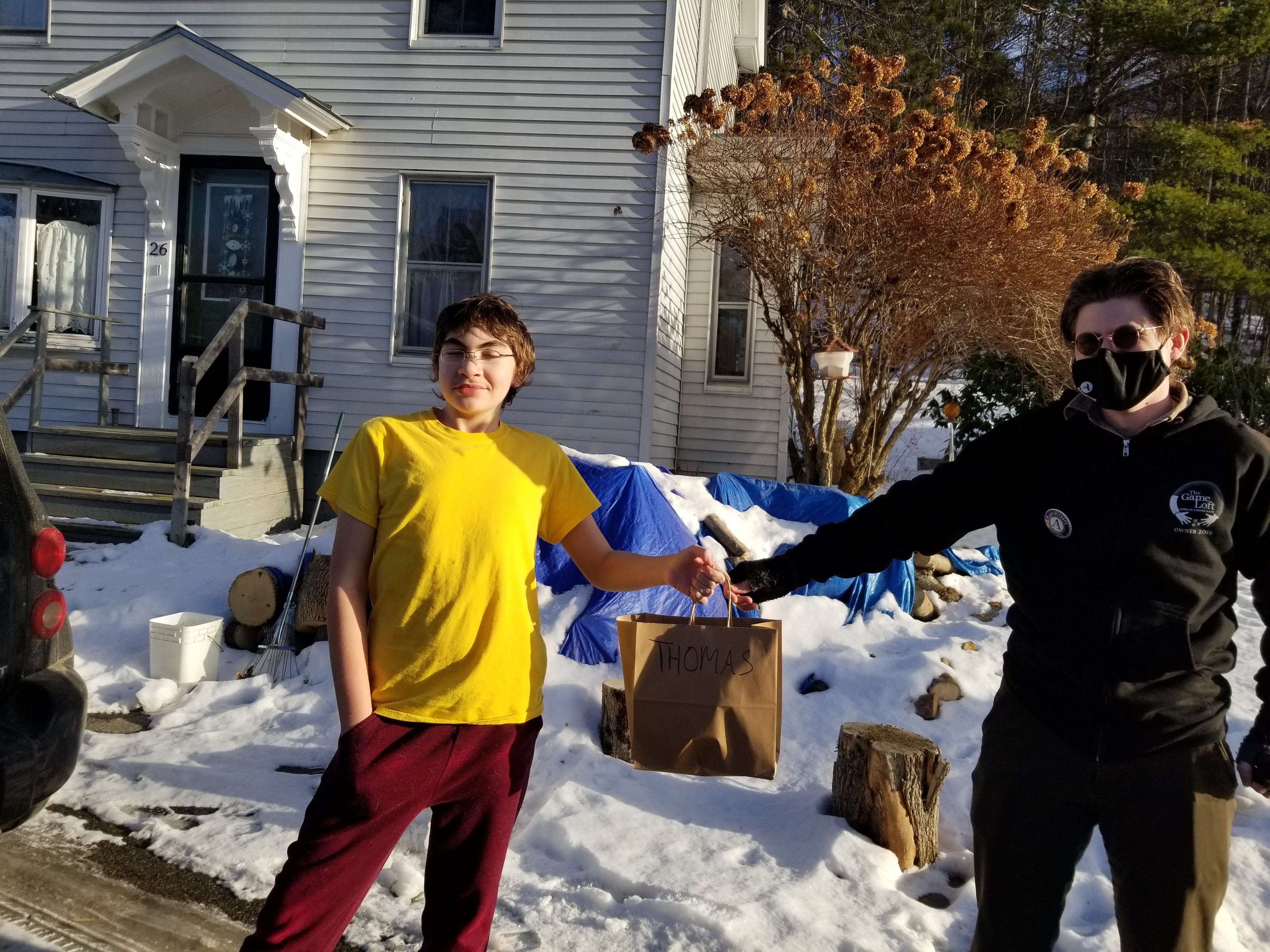 AmeriCorps Resilience Corps
"This #MLKDay, we honored Martin Luther King, Jr.'s legacy of service by supporting our communities experiencing food insecurity. Thank you to the South Portland Food Cupboard for hosting a few of our Resilience Corps fellows for an MLK Day of Service."
Text/photo credit: Greater Portland Council of Governments (GPCOG)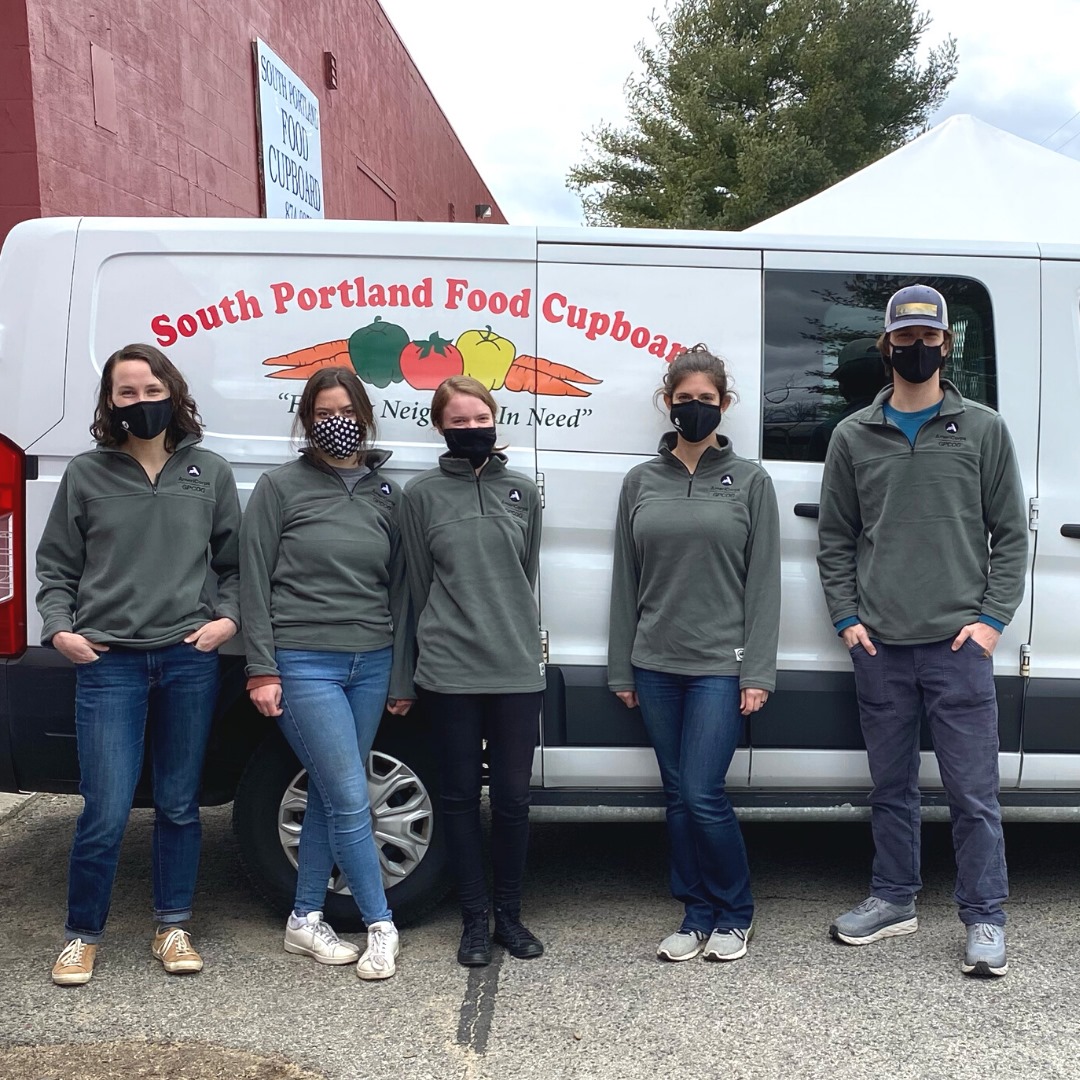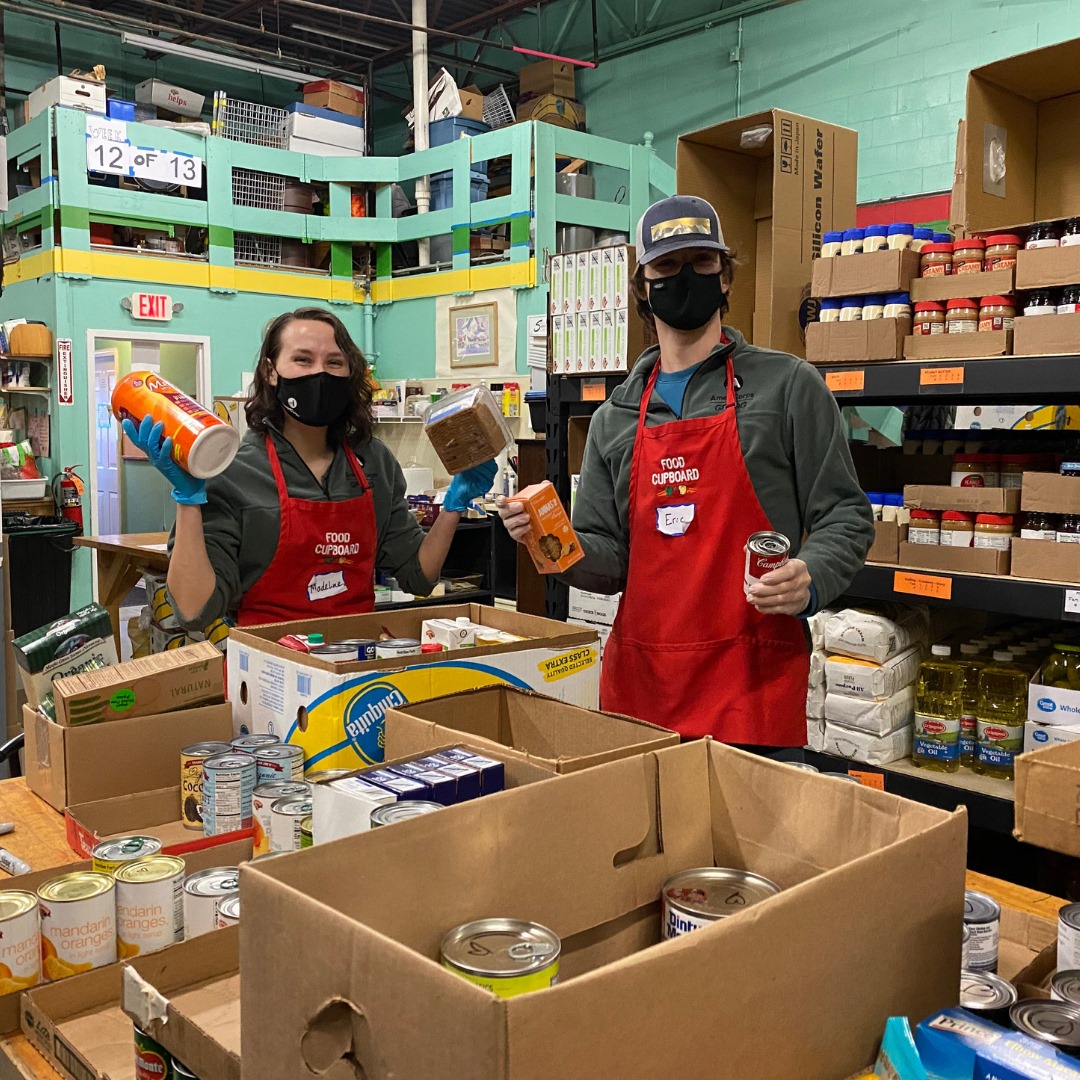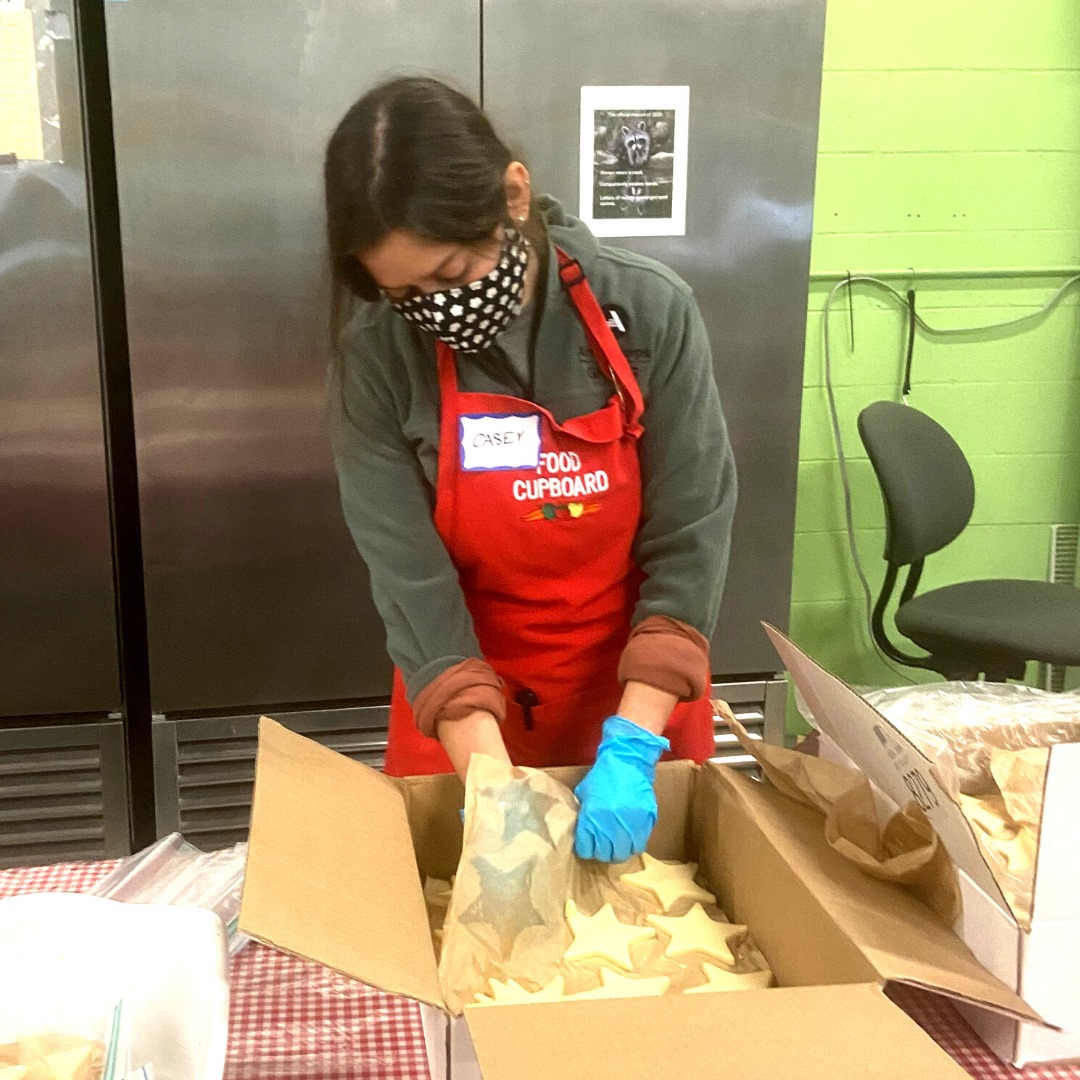 Maine RecoveryCorps (Healthy Acadia)
"On this national day of service in honor of Martin Luther King, Jr., please join us in recognizing these Maine RecoveryCorps members for their service to our communities.
Honoring Martin Luther King, Jr. requires a service-oriented mindset. Observed each year on the third Monday in January as "a day on, not a day off," Martin Luther King, Jr. Day is the only federal holiday designated as a national day of service to encourage all Americans to volunteer to improve their communities.
Healthy Acadia is taking this opportunity to recognize the national service work Maine RecoveryCorps members are providing in their local communities throughout the state. Serving in an eight-county region across northern and eastern Maine, the current cohort of 19 members provides recovery coaching, resource brokering, community education, and service projects aimed at improving community recovery capital and building recovery-ready communities."
Use the link below to learn about each RecoveryCorps AmeriCorps member.
Text credit: Healthy Acadia
Maine Campus Compact
Maine Campus Compact AmeriCorps Members getting things done this MLK Day in the Maine Initiatives Virtual Teach-In! Many thanks to all of the students and kids who participated. We can't wait to see how you take your platforms and special skills to make our world more loving and peaceful!
Maine Campus Compact hosts two AmeriCorps programs, the Maine Energy AmeriCorps Program (MEAP) and Maine Campus Compact VISTA.
Text/photo credit: Maine Campus Compact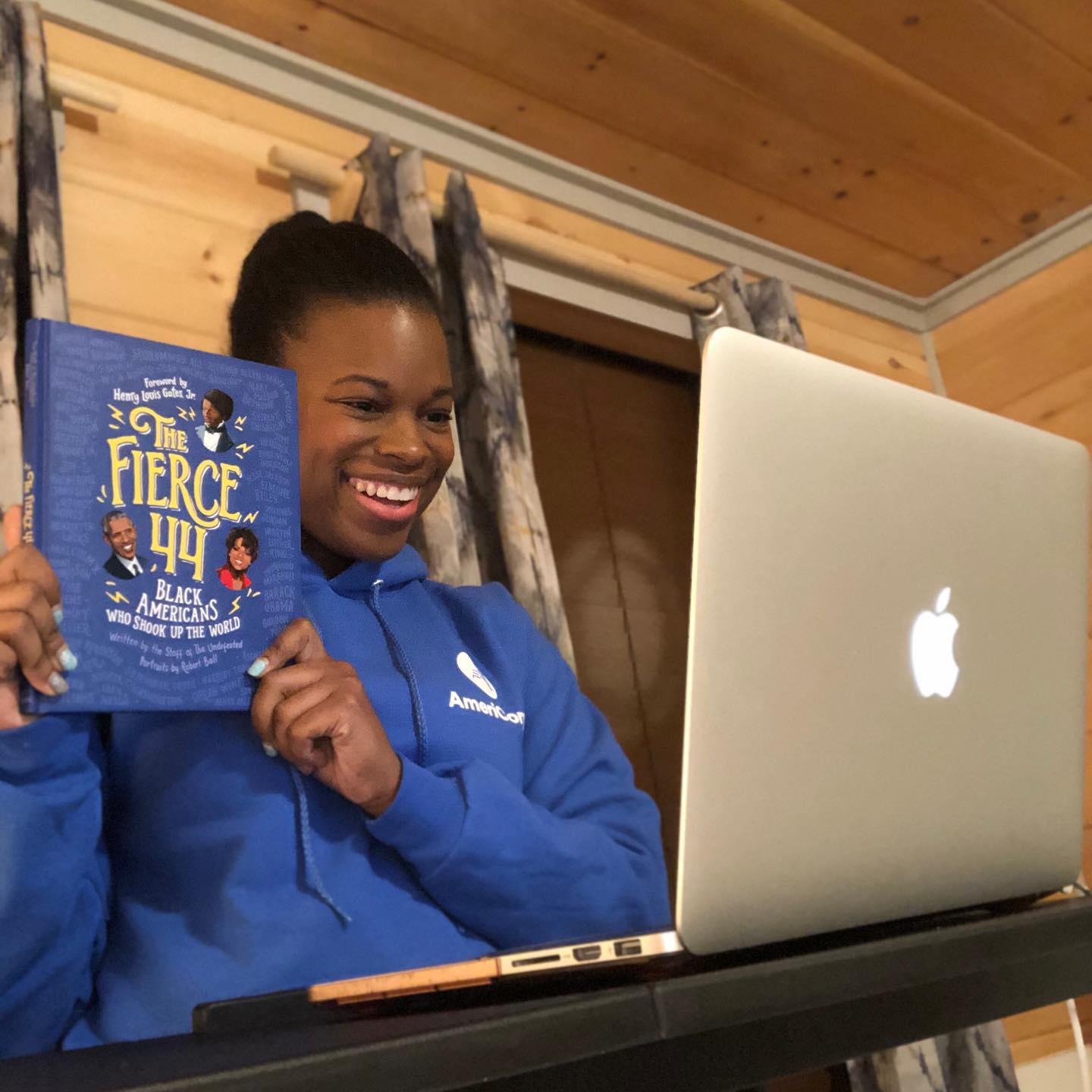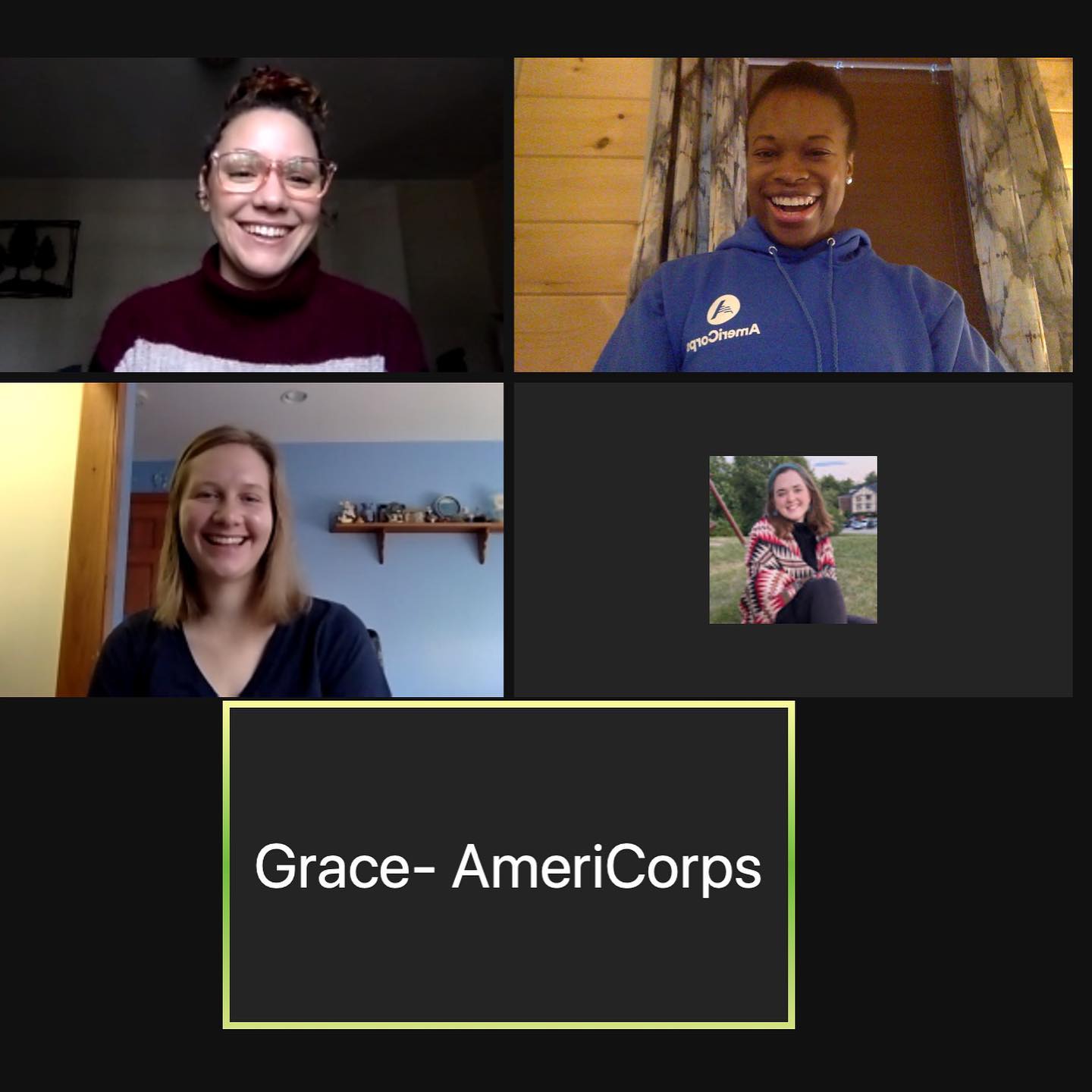 Categories
AmeriCorps
AmeriCorps Seniors
Service Stories