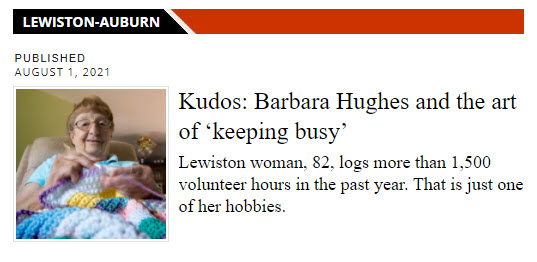 Barbara Hughes, an 82-year-old resident of Lewiston, is the subject of the Sun Journal's "Kudos" feature for the month of August. Hughes has also been recognized on the 2021 Maine Adult Volunteer Roll of Honor.
Hughes logged 1,550 hours of volunteering between March 1, 2020 and Feb. 28, 2021 for the Catholic Charities Maine SEARCH (Seek Elderly Alone, Renew Courage & Hope) program in Androscoggin County. She spends the majority of volunteer time, which equates to about 30 hours per-week, knitting for those who utilize the services provided by the SEARCH program.
Since retiring at age 74, Hughes has been asked if it is hard to stay busy. Hughes states to the Sun Journal, "I just looked at them and said: 'Are you serious? I'm more busy now than I've ever been,...But, it's good to keep busy.'"
"Volunteers play an essential role in our Maine communities," remarks Jenni Tilton-Flood, chair of the Volunteer Maine Commission, in the story. "Every day, across our state, you can find examples of people using their time and talents to improve the lives of friends, neighbors and fellow Mainers."
Use the link below to access the full story on the Sun Journal website.
Use the link below to view the 2021 Maine Adult Volunteer Roll of Honor.
Categories
Awards and Accolades
Service Stories