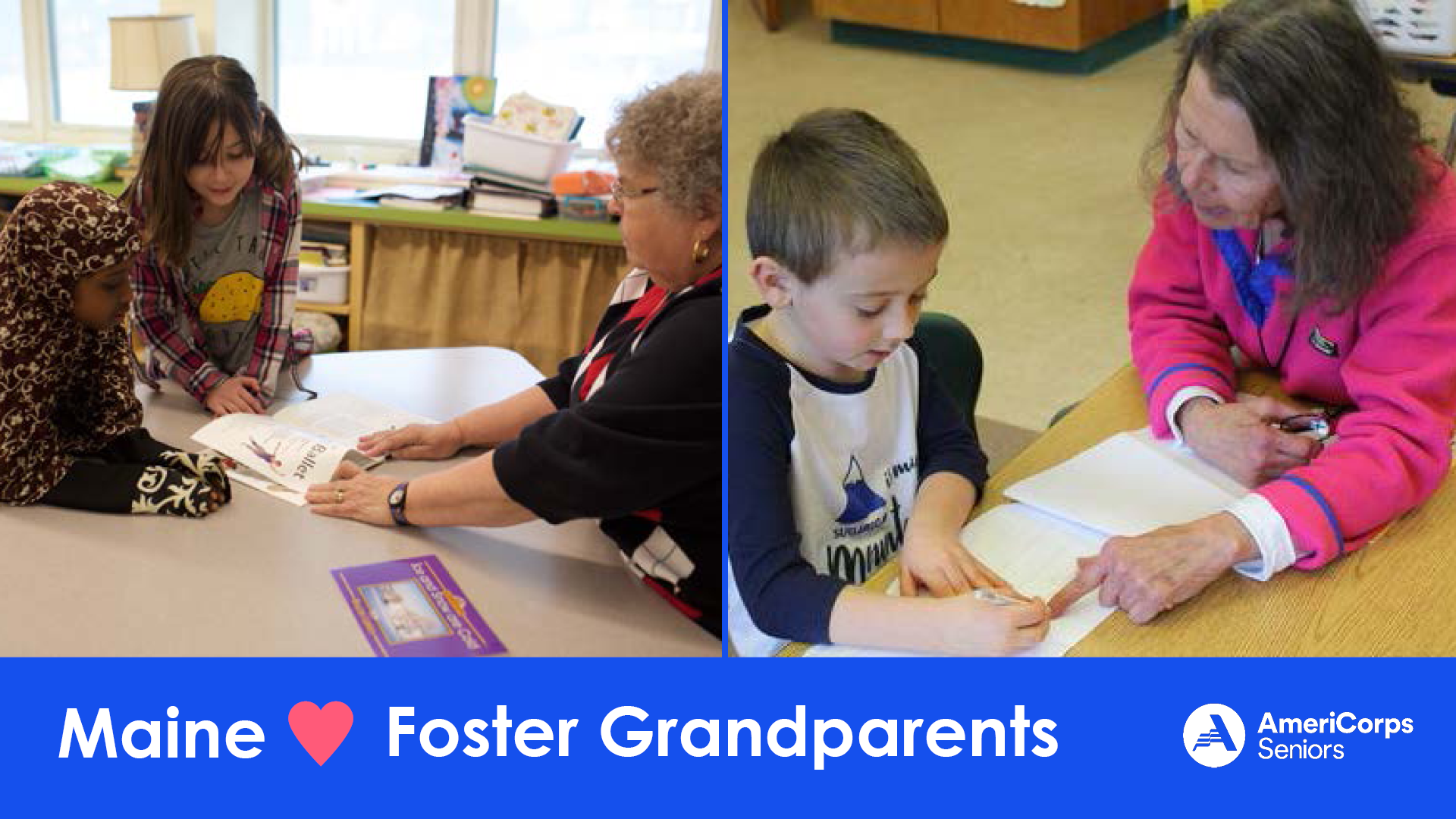 From May 9-15, Volunteer Maine celebrated the week formerly known as Senior Corps week, a national celebration of service that had been hosted by the AmeriCorps federal office. With May also being Older Americans Month, Volunteer Maine celebrated its own Maine AmeriCorps Seniors week through content takeovers on our Facebook and Twitter accounts. This blog series will summarize the stories, facts and info shared during the week. Join us in honoring Maine's dedicated AmeriCorps Seniors volunteers! 
Get to know Maine's AmeriCorps Seniors Programs! First up, Foster Grandparents.
Overview
AmeriCorps Seniors Foster Grandparents provides grants to organizations to engage low-income Americans 55 and older in providing one-on-one mentoring and academic support to children with special or exceptional needs. (Courtesy, AmeriCorps)
In Maine
Two wonderful organizations sponsor an Foster Grandparent program: Penquis and The Opportunity Alliance. Foster Grandparents create real bonds with Maine students by reading stories, helping with assignments, being a source of support, and so much more.
Service snapshot - Penquis Foster Grandparents
The Foster Grandparent Program is sponsored by Penquis in 14 of Maine's 16 counties. In 2019/2020, 70 Penquis Foster Grandparents served at 66 sites, contributing 60,746 hours of service to support the individual needs of 227 children and provide mentoring for more than 1,539 children (Info/photos courtesy: Penquis)
Service impact video: Opportunity Alliance
Foster Grandparents Fran and Dolores do a wonderful job to illustrate how AmeriCorps Seniors volunteers in Maine use their skills (including some new ones!) to make a difference. Check out the video below, produced by The Opportunity Alliance Foster Grandparent Program.
Throwback video: Meet Grammy Carrol
Last year we met Carol Christopoulos, AKA Grammy Carol, a Penquis Foster Grandparent. Carol was kind enough to share how she continued to serve students during the pandemic by learning some new skills. Check out the video below.
To learn more about Foster Grandparent programs in Maine, use the link below.
Want to become a Foster Grandparent in Maine? Check out the AmeriCorps Seniors Pathfinder -- just use the link below.
Categories
AmeriCorps Seniors
Service Stories