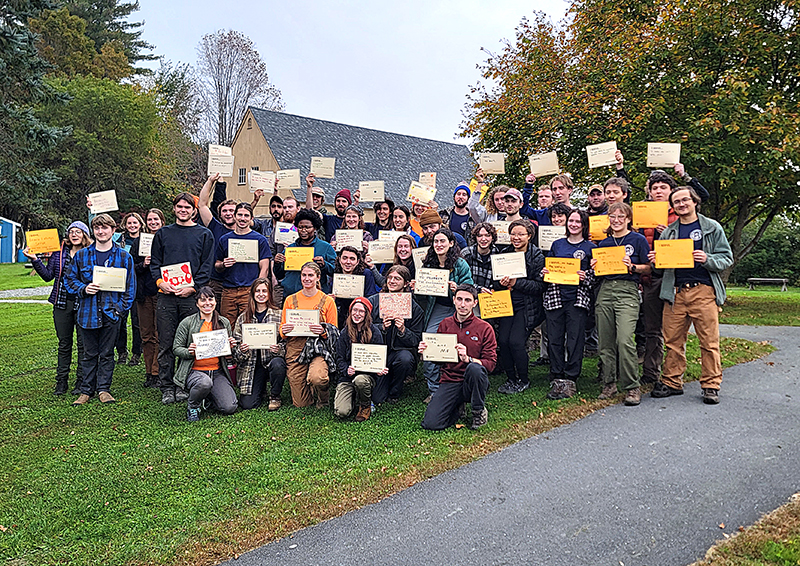 The 2023 class of Maine AmeriCorps members took the pledge to serve as volunteers during a celebration and service project that took place recently at the Viles Arboretum in Augusta. 
Maine AmeriCorps members were joined by Volunteer Maine and the Maine Department of Education (DOE) to enjoy breakfast together and be sworn in as AmeriCorps volunteers for the year and beyond. 
Maine DOE Associate Commissioner Chelsey Fortin-Trimble, an AmeriCorps Alum and advocate for volunteerism and education spoke during the ceremony about her own journey with volunteerism. She spoke about her time as an AmeriCorps member traveling from her home in Albion, ME, to Washington, DC as a young person and how participating in the program changed her life and helped shape who she has become. 
Volunteer Maine Executive Director Maryalice Crofton also addressed volunteers and thanked them for their service during the ceremony and Daniel Zamarron, the Director of Parks and Gardens for the City of Juarez, Mexico was also present for the occasion. 
This year marks the 30th anniversary of AmeriCorps. In September 1993, former President Bill Clinton helped launch the modern-day AmeriCorps and just one year later, swore in the first class of 20,000 members. Thirty years later, more than 1.25 million AmeriCorps members and hundreds of thousands of AmeriCorps Seniors volunteers have taken the pledge to serve in communities large and small. 
As part of the celebration, Fortin-Trimble also read the AmeriCorps Pledge, which members recite to affirm their commitment to serving Maine communities. 
AmeriCorps members serve in Maine to gain valuable skills while supporting community organizations in the areas of early childhood education and development, mentorship, environmental conservation, green energy education, expanding access to outdoor recreation, and community resilience, among others. Member benefits include a living allowance and a post-service education award. 
Following the ceremony National Service members were led in a service project by Harrison Lobb, an AmeriCorps Environmental Steward with Maine Conservation Corps. Participants helped remove invasive species from the Viles Arboretum property enabling native plants and animals to thrive and enhancing access for visitors. 
A local resident and garden enthusiast Jacky Zarate also ended up joining the National Service volunteers after being invited on a whim by a Volunteer Maine staff member who was picking up gloves at a local hardware store to use that day. It's moments like these that further exemplify the opportunity for service to bring people together. 
The Viles Arboretum service project was funded through an Alumni TIES small grant from the U.S. Department of State. The event was organized by Volunteer Maine, the state service commission, which builds capacity and sustainability in Maine's volunteer sector by funding service programs, developing volunteer managers and service-learning practitioners, raising awareness of the scope and the impact of the volunteer sector, and encouraging an ethic of service. On Oct. 16, 2019, the Maine Commission for Community Service adopted the public identity Volunteer Maine. To learn more about Volunteer Maine visit their website: https://volunteermaine.gov/ 
About AmeriCorps 
AmeriCorps, a federal agency, brings people together to tackle the country's most pressing challenges, through national service and volunteering. AmeriCorps members and AmeriCorps Seniors volunteers serve with organizations dedicated to the improvement of communities. AmeriCorps helps make service to others a cornerstone of our national culture. Learn more at AmeriCorps.gov.
 
photo credit and story by Rachel Paling, Communications Outreach Manager, Maine Dept of Education