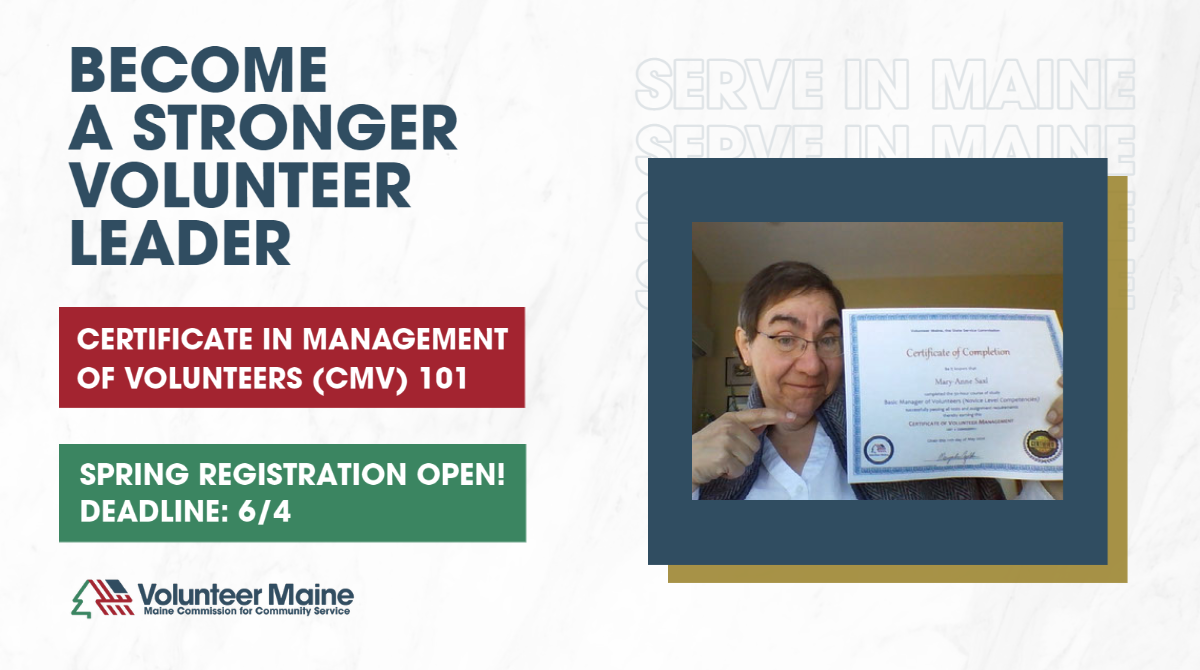 With Maine opening back up and the pandemic fading away in the rear view mirror, there's much to be done to get back on track. Mainers don't shy away when called upon to help their respective communities, but volunteer efforts are much more impactful with a good plan.
The world needs more volunteer leaders. Are you ready to take the next step?
Register for our Certificate in Management of Volunteers (CMV) 101 online course. But the time to act is now! Registration for the third and final session of 2021 closes this Friday.
Developed and offered by Volunteer Maine, the state service commission, this course is designed for everyone responsible for designing, implementing, or sponsoring volunteer programs. As the basic course, it is built around the novice level Competencies for Managers of Volunteers. It also is a good refresher for anyone re-entering the field or individuals who expect to take on leadership roles in their communities or agencies.
What CMV 101 grads are saying
"Thanks for offering a great program, it's really helped me in my day to day responsibilities as a volunteer coordinator." - Jen
"This opportunity for certification - It was a rewarding process with some very good content that helped me to 're-focus' on our volunteer program and on my strengths and challenges as an administrator. I am energized and excited." - Liz
Ready to boost your volunteer management skills? Visit the CMV 101 page of our website to learn more and access registration -- just use the link below!
Categories
Training and Professional Development
Volunteer Leadership
Volunteer Opportunities