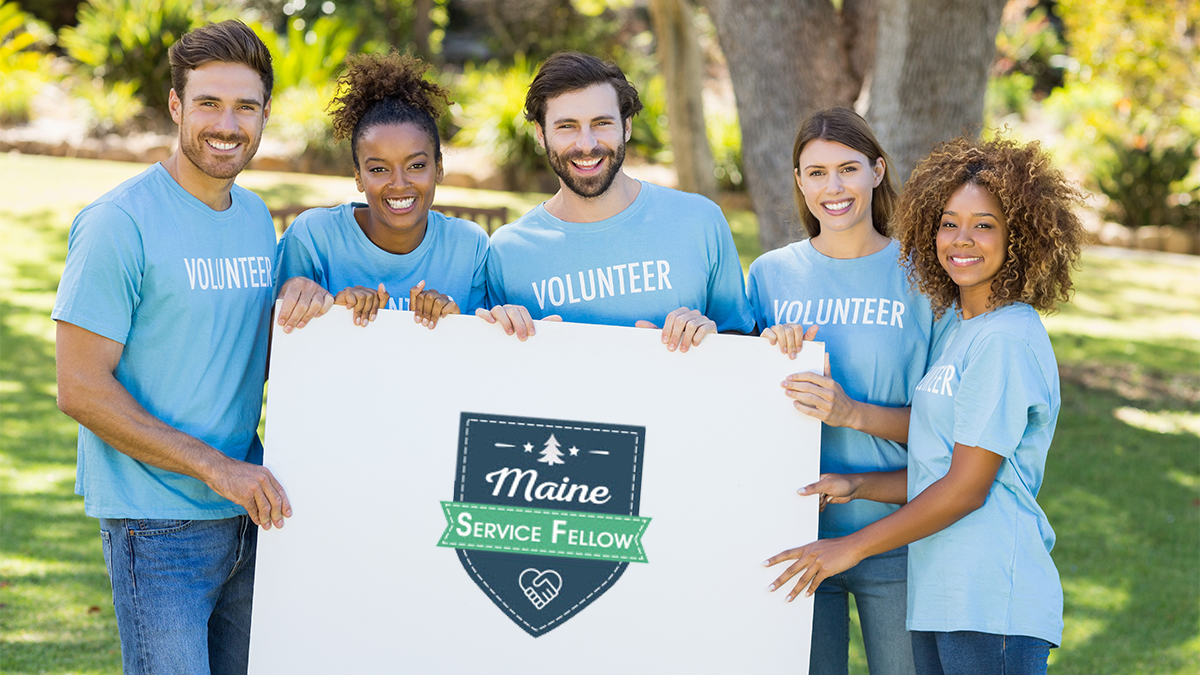 View open positions on Service Year!
The mission
The mission of the Maine Service Fellows program is to
Provide rural, underserved communities with a resource to address critical needs;
Increase the opportunities for recent college graduates to devote a year of service to communities and use their skills to make a difference;
Attract and retain people with a passion for public service, especially in rural areas; and
Strengthen civic engagement and community resilience by involving community residents as well as Service Fellows in volunteer-based solutions. 
Service Fellows devote between one and two years to helping a community address a challenge. They are recent college graduates who opt to apply their skills and knowledge to a service assignment. During service, they receive a stipend, health insurance, training, and other supports that help them focus on the community work plan. 
Maine Service Fellows is a program of Volunteer Maine, the state service commission, and not part of the AmeriCorps national service network. The Commission works with qualifying communities to recruit and place individual Service Fellows.
Be a Service Fellow 
If you are ready to voluntarily commit to serve the needs of a rural Maine community, Maine Service Fellows wants to meet you! 
In addition to honing skills, knowledge, and abilities, serving as a Fellow is an opportunity to
Explore public and nonprofit careers
Develop a professional network
Demonstrate your ability to have an impact on a specific issue
Immerse oneself in the year-round life of a Maine community
Make an authentic difference
Eligible individuals need to
Be at least 20 years of age;
Have completed a college degree (associates, undergraduate, or graduate school) within the last five years;
Be eligible to work in the United States;
Pass a background check that includes a criminal history record check;
Commit to the full term of service (1800 hours each year);
Live in the community impacted by the Service Fellow project;
Meet the qualifications for a specific project assignment; and
During service, comply with the terms and conditions of the program and local sponsor organization with which they serve.
Maine Service Fellows are not employees of the host organization but they do receive financial support. The living allowance is set by law at 212% of the federal poverty level and does not vary regardless of a candidate's experience, training, education, location, or project responsibilities. The living allowance lets an individual commitment to full-time service. Health coverage is available for those who need it. On successful completion of the service year, Fellows may be eligible for an end-of-service financial award that can be applied to education-related debt.
Interested in applying? Email a resume and cover letter attached to Jake Hurner, Maine Service Fellows Coordinator, at Jake.Hurner@maine.gov.
Community Project Sponsors 
Communities that apply to host a Service Fellow may be county or municipal government, school districts, local nonprofits, faith-based organizations, or regional organizations authorized by the community to lead the project. A single organization submits the application for the community and, if accepted, agrees to provide the required supports. Those supports include technical supervision, assignment of a community liaison for the Fellow, work space with appropriate equipment (computer, phone, etc.), and a modest financial contribution to the program.
The program is open to communities located in parts of the state defined as very rural under the USDA Rural-Urban Continuum Codes. Specifically, that means communities in Aroostook, Washington, Hancock, Piscataquis, Franklin, Somerset, Oxford, Lincoln, Knox, or Waldo counties as well as towns in Penobscot County with populations of 5,000 or fewer residents.
Community project work plans for Service Fellows need to focus on one of the areas listed below:
General areas of need
COVID 19 recovery 
Housing including eviction prevention
Workforce development
Substance use prevention and recovery
Public health including mental health
Climate Action areas
Coastal zone 
Community resilience (including climate action planning)
Transportation
Energy
Housing
Land and fresh-water preservation
Education (k-12 and community) 
Public health
Service Fellows must devote 20% of their annual work plan to developing regional networks of volunteer programs and leaders. The resulting connections will add to community resilience and support engagement of all residents in civic life.
Applications from potential community partners begin with a "Letter of Intent" that can be submitted at any time.
FMI go to Community Sponsor and Application page
Supporting Partners
The Maine Service Fellows program is funded as a public-private partnership. Private sector donors underwrite the cost of supporting a Fellow for a year. These contributions extend the reach of the program when matched with very limited public funding. Private donors help place Fellows in more rural, financially stressed communities. Locally, the host organization and community partners cover project materials, supervision, work materials for the Fellow (internet, phone, office supplies, etc.) but the funds to support the Fellow's service (living allowance, health insurance, etc.) are fully covered by the Commission.
The Maine Volunteer Foundation, the nonprofit partner of Volunteer Maine, leads the private fundraising efforts. Individuals, businesses, foundations, and others who may want to invest in the program should contact Bill Birney, President, Maine Volunteer Foundation, by using the contact page on the Maine Volunteer Foundation website -- access here. 
Anyone who would like to support recruitment or training of Fellows can donate now through the Foundation. Please use the link below to access the donation page.
Learn more about the Maine Volunteer Foundation (MVF) here by visiting their website. Use the link below to access the page.