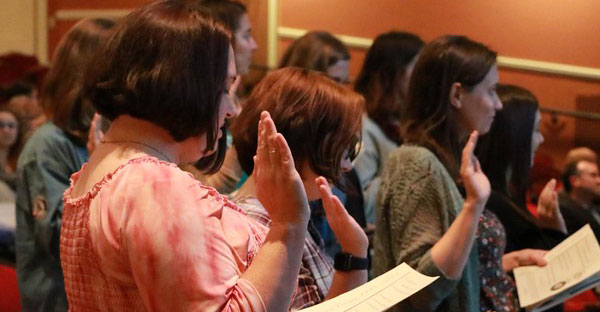 A new focus for our 28th ceremony!
This year's event will be held in person, and it certainly will be a special occasion! AmeriCorps CEO Michael Smith will be visiting from Washington D.C. to preside over the swearing in ceremony.
Where there are AmeriCorps members who have already begun their term of service, we at Volunteer Maine wanted to include everyone, which is why we're calling it a Commitment Ceremony. Why? For members new and currently-serving, it's an opportunity to demonstrate their commitment to helping others!
The ceremony will take place Tuesday, Sept. 27 from 11 a.m. - 12 p.m. inside the Hall of Flags at the Maine State House in Augusta. The event will only be open to members, program staff and invited guests.
There is potential to broadcast a live stream of the event, but that decision has not yet been made. Regardless, images of the ceremony will be made available shortly after the event.
For AmeriCorps program staff and members
If you have any questions regarding the ceremony, please contact Bryan Roche, Communications Officer, at Bryan.Roche@maine.gov
Overview
In the Fall each year, soon after the start of the traditional AmeriCorps program year, the Commission gathers newly serving and continuing AmeriCorps members, as well as AmeriCorps Alumni, for the annual AmeriCorps Launch.
In recent years, Justices from Maine's Supreme Judicial Court have led the attendees in the AmeriCorps pledge, affirming their commitment to service in the community.
Relive the 27th Maine AmeriCorps Induction Ceremony
Thank you to our AmeriCorps alumni speakers, Maine Supreme Court Associate Justice Andrew Mead, Commission Chair Jenni Tilton-Flood and to all those who tuned in to our live stream to help welcome and celebrate the 27th class of Maine AmeriCorps members.
Watch a the replay
Access a full replay of the 27th Maine AmeriCorps Induction by clicking the video player below.