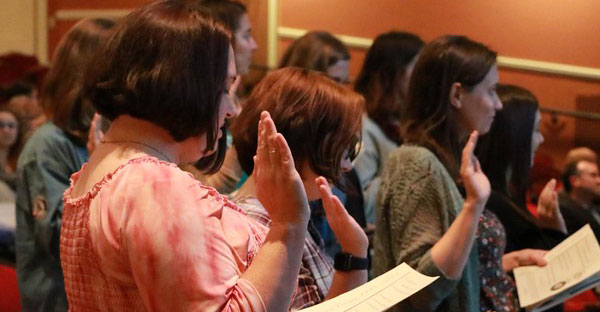 Overview
In the Fall each year, soon after the start of the traditional AmeriCorps program year, the Commission gathers newly serving and continuing AmeriCorps members, as well as AmeriCorps Alumni, for the annual AmeriCorps Induction.
30 Years of Service 
From September 2023 to September 2024, AmeriCorps is celebrating three decades of national service.
This year's Commitment to Service event will be held in person. The Commission Chair for Volunteer Maine, Luke Shorty, will preside over the swearing-in of AmeriCorps members.
Where there are AmeriCorps members who have already begun their term of service, we at Volunteer Maine wanted to include everyone, which is why we're calling it a Commitment to Service. Why? For members new and currently serving, it's an opportunity to demonstrate their commitment to helping others!
The event will take place on Friday, October 12th from 9 a.m. - 2p.m at the Viles Arboretum
Please come join Volunteer Maine and our Volunteer Leadership Conference keynote speaker, Daniel Zamarron, for a day of service at Viles Arboretum in Augusta. The day will open with the AmeriCorps pledge. AmeriCorps members, community volunteers, and other invited guests will help Viles Arboretum steward this vital community and state resource. This is an opportunity for members, staff, and community to build connections, reflect on service, and get things done!
There is potential to broadcast a live stream of the event, but that decision has not yet been made. Regardless, images of the ceremony will be made available shortly after the event.
For AmeriCorps program staff and members
If you have any questions regarding the ceremony, please contact Jamie McFaul, Grants Officer, at Jamie.mcfaul@maine.gov