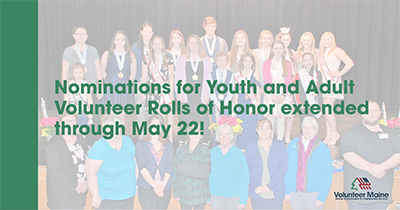 AUGUSTA -- Due to COVID-19, the nomination deadline for the 2020 Maine Adult and Youth Volunteer Rolls of Honor has been extended to Friday, May 22 at 5 p.m. The program is organized by Volunteer Maine, Maine's service commission.
The Maine Volunteer Rolls of Honor are a statewide effort to show appreciation to those citizens who go above and beyond in terms of the time they devote to serving their communities. There is no cost to the nominator or person honored thanks to civic-minded supporters.
Adult nominees must be 19 years of age or older and volunteered at least 500 documented hours in the prior calendar year. Youth nominees must be 18 years of age or younger and volunteered at least 50 hours in the prior year. All volunteers certified as qualifying by the nominating program will be recognized. This is not a competitive recognition program.
Individuals added to the Adult and Youth Maine Volunteer Rolls of Honor are recognized in the following ways:
A Governor's Awards for Service and Volunteerism certificate signed by the Governor with the person's name and total hours of service during the prior year.
Listing by name, town, and hours of service in an advertisement published in Bangor Daily News. This form of recognition is intended to generate more local congratulations from neighbors and friends of the volunteer.
 
The in-person recognition ceremony has been canceled this year due to the pandemic. The ceremony was scheduled to be held prior to the Portland Sea Dogs' annual Volunteer Appreciation Night game at Hadlock Field in Portland, Maine.
Did you know?
38.7% of Maine residents volunteer, which is ninth among states. 425,346 volunteers contribute 39.2 million hours of service. That equates to a volunteer service worth of an estimated $947.6 million. All data courtesy of the most recent
Volunteering in America rankings
published by the Corporation for National and Community Service.
About Volunteer Maine
Volunteer Maine, the state service commission, builds capacity and sustainability in Maine's volunteer sector by funding service programs, developing volunteer managers and service-learning practitioners, raising awareness of the scope and the impact of the volunteer sector, and encouraging an ethic of service. On Oct. 16, 2019, the Maine Commission for Community Service adopted the public identity Volunteer Maine.
Media Contact
Bryan Roche, communications officer, Volunteer Maine
Office: (207) 624-7836
Cell: (207) 446-3471
Email address: bryan.roche@maine.gov
View additional media coverage
"Nomination deadline extended for 2020 Maine Adult and Youth Volunteer Rolls of Honor" -- WABI TV-5 --  view here
"2020 Maine Adult and Youth Volunteer Rolls of Honor nomination deadline extended" -- Kennebec Journal/Morning Sentinel -- view here
"Briefs: 5/12/2020" -- Portland Press Herald -- view here