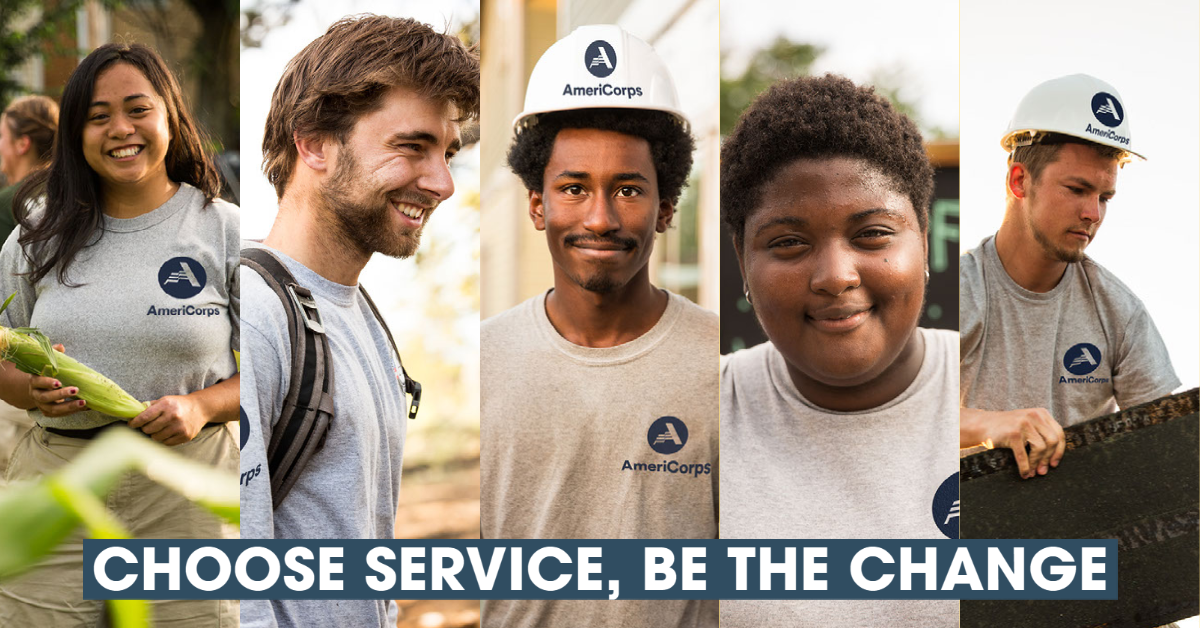 Now is the time to make a difference in Maine communities. Use this page to learn about the AmeriCorps application process, eligibility, resources and info session replays. 
Be the change: Maine AmeriCorps programs need you!
Are you someone who takes the lead? Runs to take on a challenge while others wait for a solution?
Do you want to help Maine communities get back up and running after the pandemic?
AmeriCorps programs in Maine are looking for the next class of individuals to get things done! Are you ready to accept the challenge?
Who is AmeriCorps service for?
Recent high school graduates looking for a gap year;
College students looking to reduce the cost of tuition;
College graduates looking to build skills;
Adults looking for a new direction or challenge;
Anyone 18 or older looking to do some good in the world.
Benefits of serving

Serving in AmeriCorps will allow you to be a helping hand to those in need, build valuable skills, and earn money for post-secondary education or training. So, are you ready to get things done?

Why serve in Maine?

Transform communities
Earn an education award
Experience Maine's natural resources
Gain skills 
Receive benefits during service 
(living allowance, health coverage, childcare)
Be part of the COVID-19 relief effort

Additional benefits

Did you know? Certain institutions will match your education award! Click the link to learn about the Segal AmeriCorps Education Award Matching Program.
Life after service: Connect with employers who understand the value of AmeriCorps service. Click the link to learn about the "Employers of National Service" program and the companies that participate.

Visit the AmeriCorps federal website to learn more about the benefits of serving.

Downloadable resources

All resources are PDF files and are courtesy of AmeriCorps.

Next step: Create a profile on Service Year

Service Year is your hub for AmeriCorps opportunities in Maine. Create a profile, save your information, and begin the application process. Plus, you can connect directly with program staff, current members, and AmeriCorps alumni to ask questions and begin building your service network.  

AmeriCorps videos

Want a better understanding of what it's like to serve in Maine? View the Maine AmeriCorps member profile below to hear from current program members how AmeriCorps service has transformed their lives for the better.

Maine AmeriCorps member profiles: First4 AmeriCorps program

AmeriCorps: The Best of America

"Choose Service: Be the Change" October 2020 info session replay

Watch the info session to hear directly from Maine program representatives and alumni why individuals continue to choose AmeriCorps service! Learn how each program serves its respective community, find contact information to ask questions, browse resources and learn about the benefits you can earn here in Maine.

PLEASE NOTE: A good portion of the AmeriCorps program photos used in the video were captured before the pandemic.

Get to know the programs!

Short on time? Have an idea of which program you want to learn more about? We've got you covered! Hear from each of the programs currently recruiting, and access an additional information on Service Year. P.S. scroll down below to learn more about Service Year!

AmeriCorps Resilience Corps

Apply on Service Year -- click here.

Questions? Email the program: jbreul@gpcog.org

LearningWorks Aim High AmeriCorps

Apply on Service Year -- click here.

Questions? Email the program: louellette@learningworks.me

Maine Conservation Corps AmeriCorps Program

Apply on Service Year -- click here.

Questions? Email the program: Corps.Conservation@maine.gov

Maine Energy AmeriCorps Program

Apply on Service Year -- click here.

Questions? Email the program: sally@mainecompact.org

Maine RecoveryCorps AmeriCorps Program

Apply on Service Year -- click here.

Questions? Email the program: paige@healthyacadia.org

Seeds of Hope AmeriCorps

Apply on Service Year -- click here.

Questions? Email the program: rev.shirley@seedsofhope4me.org

Skowhegan AmeriCorps Outdoor Recreation Program

Apply on Service Year -- click here.

Questions? Email the program: kristina@mainstreetskowhegan.org