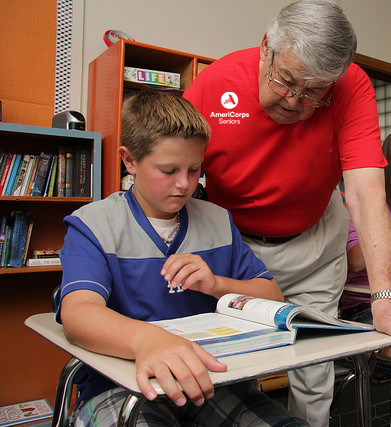 Foster Grandparents devote their volunteer service entirely to disadvantaged or disabled youth.
Foster Grandparents are individuals age 55 and over who thrive on direct interaction with children and believe they can make a difference in their lives.  Income-eligible Foster Grandparents receive a modest stipend to help offset the costs of volunteering.
Maine Programs
Penquis Foster Grandparent Program

Counties served: Androscoggin, Aroostook, Franklin, Hancock, Kennebec, Knox, Lincoln, Oxford, Penobscot, Piscataquis, Sagadahoc , Somerset , Waldo, Washington, and the town of Brunswick.

Primary Contact: Maria Staples, Program Director
Penquis Community Action Program
262 Harlow Street, Bangor, ME 04401
phone: (207) 207-973-3611
email:mstaples@penquis.org
web site: www.penquis.org

The Foster Grandparent Program places volunteers 55 years of age or older in public or nonprofit settings such as schools, Head Start centers, correctional institutions, and child care centers, to serve as tutors and mentors to children and youth with special needs.  Among other activities, they review schoolwork, reinforce values, teach skills and care for infants and children with disabilities.  Volunteers serve an average of 15-36 hours per week.  Benefits include a non-taxable stipend, mileage, paid time off, training, supervision and recognition.  Help to mobilize one of Maine's greatest resources - its seniors - to prepare our children and youth to be successful students and responsible citizens.

Foster Grandparent Program sponsored by The Opportunity Alliance

Counties served: Cumberland, York County and the southern towns of Oxford County

Primary Contact: Sonya Thibeau
222 St. John Street, Suite 302B
Portland, ME 04102
phone: (207) 773-0202
fax: (207) 874-1182
email: sonya.thibeau @opportunityalliance.org
web site: www.opportunityalliance.org

Adults age 55 and over have an opportunity to make a difference in children's lives while enhancing their own. Foster Grandparents mentor and tutor children under the supervision of teachers and staff in schools, child development centers and Head Starts throughout York, Cumberland and parts of southern Oxford county.

Volunteers who have completed our application process (including background checks) meet generous income guidelines and able to commit to at least 10 or more hours a week are eligible for a number of benefits including a non-taxable stipend, meal and travel assistance, paid time off, pre-service and ongoing training, supervision and recognition.

To find out more about our program, the service area and the income guidelines please call us at 207-773-0202, toll-free at 1-800-698-4959 and email FGP@opportunityalliance.org.